Date: November 15-16Place: Sydney, Australia
We're excited to be a part of Forrester's Technology & Innovation APAC event as sponsors, to meet experts, industry leaders, and business pioneers from around the globe. The two-day event will be packed with thought-provoking conversations, and intriguing panel discussions on shaping your organization's future growth with AI-driven solutions.
DEVLEARN 2022
Date: October 26-28Place: Las Vegas, NV
We are thrilled to attend DEVLEARN and meet an exclusive group of experts from different industries. The 3-day event would be packed with thought-provoking keynotes and stimulating conferences led by experts who are passionate about using technology to improve education and advance the L&D industry. With an amazing line-up of speakers, this event presents the opportunity to discover how videos and e-learning offer a distinctive perspective on problem-solving and how design can be strategically used to foster innovation.
Date: September 20-21Place: Singapore
Time to gear up for the event of the year, Forrester's B2B Summit APAC, and meet industry leaders and business pioneers from around the globe. The two-day event will be packed with thought-provoking conversations, and intriguing panel discussions, to empower the strategies of marketing leaders to enable them to foster results that surpass goals. We're excited to learn, network, and share exclusive tips and tricks to help sharpen your marketing strategies with artificial intelligence.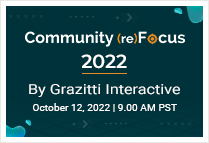 Date: October 12Place: Virtual
Grazitti Interactive is all set to host another edition of its virtual conference, Community (re)Focus, 2022 on October 12 from 9:00 AM PST to 2:00 PM PST. The conference will revolve around rekindling engagement in communities and spearheading the new era of online communities. Get ready for a day packed with insightful keynotes, panel discussions, AMA sessions, and a lot more, with leading community experts from across the globe.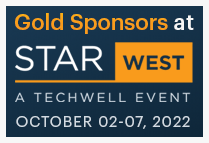 Date: October 2-7Place: Anaheim, CA & Virtual
Grazitti's QA experts are all set to be a part of STARWEST Conference 2022 as Gold Sponsors. Slated to take place from October 02-07, 2022 in Anaheim, California, the conference will have 50+ learning opportunities including lectures, tutorials, and training classes. We're looking forward to connecting with QA mavens and covering a wide variety of some of the most in-demand topics including test automation, DevOps, agile testing, and mobile testing.
Date: September 6-9Place: Boston, MA & Virtual
Gear up to join industry leaders from all over the world and be a part of the ultimate INBOUND experience. The 4-day event would be packed with riveting discussions and insightful spotlight sessions that cover new product innovations, upcoming trends, and how businesses can create tailored digital experiences and drive better ROI. With an all-star line-up of seasoned speakers and thought leaders from different verticals, the event presents an opportunity to network and learn from industry peers to create superlative experiences that seamlessly connect the digital & physical arena.
Date: August 4Place: Virtual
Get ready to be a part of the exclusive webinar where community mavericks will indulge in riveting conversations around multiple inter-related innovations taking place around the community space. Watch them unveil growing opportunities as community space is making a push towards the next evolution of the internet, Web 3.0. Jam-packed with meaningful insights about transitioning online communities with technologies like NFTs, Blockchain, Metaverse, and more, this event grants the opportunity to learn, inspire, and grow. Join our experts to create innovative, future-ready communities and drive ROI.
Date: September 20-22Place: San Francisco, CA
Grazitti's Salesforce experts are ready to be part of the Dreamforce experience as Navigator Sponsors. The event will be packed with customer stories, insightful workshops, riveting keynotes, expert-led product demos, and more. We'll join trailblazers from all over the world for three days of learning, networking, and showcasing our Salesforce expertise and foresight for innovation that pushes the boundaries of digital experiences.
Date: May 31-1Place: Dubai World Trade Centre
We're delighted to join Seamless Middle East 2022 as a sponsor. The event is a world-leading summit and exhibition with an amazing line-up of speakers and thought leaders who will share their key insights on the eCommerce and retail industry's future.
Date: May 16-19Place: Denver, USA
This year's edition of Inspire is the perfect opportunity to stay on the cutting-edge of analytics technologies with exclusive keynotes, product discussions, customer case studies, best practices, and hands-on platform training powered by Alteryx. Share your passion for problem-solving with top analysts, experts, and data scientists to build the knowhow to create breakthroughs.