Salesforce Manufacturing Cloud – A Complete Business Process Management Solution For
---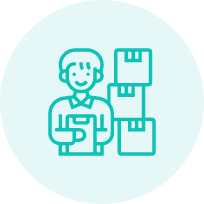 Smart Inventory Management
Better Vendor Management
Strong Customer Relationships
Salesforce Manufacturing Cloud Offerings
---
Manage Sales Agreements
Make your business transactions more predictable and increase your revenue margin. Track actual quantities and revenues with real-time updates from orders and contracts.
Customize Account Forecasts
Make forecast adjustments according to the planning period of your company. Analyze forecast data and develop accurate forecasts that will optimize your production and operations.
Optimize Demand Generation
Track leads through the sales process and learn what sales strategies work for particular customers and get insights to boost lead generation.
Our Salesforce Manufacturing Cloud Services
---
We ensure a hassle-free switch from your legacy platform to the Salesforce Manufacturing Cloud in a fast and complete manner.
We offer QA and high-end testing services to ensure quality, efficiency, and security.
We provide round-the-clock support and on-demand maintenance to solve any technical roadblocks that you may encounter.
We streamline complex processes and simplify the entire cloud adoption process.
We ensure that you seamlessly integrate Salesforce Manufacturing Cloud with the rest of your technology stack to develop a unified and scalable ecosystem.
We extend our know-how to keep your Salesforce Manufacturing Cloud running smoothly using the right technology and teams.
We identify your processes, define objectives, and build the right strategy for your Salesforce Manufacturing Cloud so that you can get started right away.
The Grazitti Advantage
---
Salesforce Partner
On-Time Delivery with Quality
Certified Salesforce Experts
Years of Salesforce Expertise
Our Customers Love Us
---
At Optimizely, we are continually pushing the boundaries of innovative web design. Grazitti has been instrumental in building our Optiverse learning hub and responsive community homepage redesign. They worked tirelessly to implement creative and complex solutions that allowed our vision to come to life. In the 2 months since launch, we have seen a ~200% increase in avg weekly member registrations, a 100% increase in member time on site, and a 75% increase in total page views. We couldn't have done it without you. Thanks!!!!
Amanda Swan,
Community Manager,
Optimizely
This is beautiful! You've exceeded my expectations with the design for each section. This really looks fantastic.
Daniel Greenberg,
Principal,
CMO-ToGo
Right from start the Grazitti team gave us the confidence that we do not need to have a plan B. Once things started rolling – they were able to accommodate a number of requirements that were made by the operating teams within the timeframe.
David Skyberg,
Product Manager,
Ping Identity
I really admire the team's hard work, dedication, and sense of responsibility. It's also been very easy to approach the team, even during late hours, which I appreciate very much.
Yogesh Kapoor,
Director, Enterprise Applications,
MobileIron

Grazitti and Marketo Support have successfully partnered to roll out rich functionality and support Portal. Beyond core development skills to implement business functionally in SFDC Service Cloud and Customer Community, the Grazitti team has been a valued contributor to recommend technology such as Solr text search, workflow optimizations, and web creative design.
Patricia Lughezzani,
Group Vice President, Customer Support & Advocacy,
Marketo Inc.
Frequently Asked Questions
---
What is the Salesforce Manufacturing Cloud?
Designed to meet the needs of manufacturing and other supply chain businesses, Salesforce Manufacturing Cloud provides a comprehensive business interaction layer. It automates service operations, and simplifies supply chain management, and supplier relationship management.
How does Salesforce Manufacturing Cloud help the manufacturing industry?
You can better understand your run-rate business, increase transparency and collaboration between your operations and sales teams, and better forecast your business with Salesforce Manufacturing Cloud. Furthermore, it enables you to manage all aspects of customer service.
How can Salesforce Manufacturing Cloud benefit my organization?
With Salesforce Manufacturing Cloud, you can collaborate across departments more effectively. With it, companies can automate manual tasks and avoid human error by connecting departments. This information can be vital to businesses when placing sales or fulfillment orders.
Why should I choose Salesforce Manufacturing Cloud?
The market and business environment continue to evolve at an accelerated rate, requiring business leaders to collaborate more closely and frequently with other stakeholders also involved in forecasting. Manufacturing Cloud allows all stakeholders to collaborate effectively on forecast data. Using a single source of truth, account managers, regional sales managers, and partners can all track adjustments made to account forecasts. Overall, it's an ideal BPMS (Business Process Management Solution) for the manufacturing industry.
Can we integrate Salesforce Manufacturing Cloud with other ERPs?
Yes, Manufacturing Cloud can be integrated with your existing ERP and OMS systems via APIs, the MuleSoft Accelerator for Manufacturing, or other middleware solutions. Please drop us a line at
[email protected]
if you would like more information or expert assistance on effortless integration.