Case Management in Service Cloud
A case is a customer question, feedback, or issue. Support agents use cases to interact with customers and track issue resolution.
You can create, locate, edit, sort, and filter cases & queues using standard and custom list views on the Cases tab.
With case management in Service Cloud, you can automatically assign the right agent, streamline service processes, as well as see the full context of your cases.
Email-to-Case in Salesforce enables you to communicate with customers over email directly from the Service Console, by turning customer emails into cases.
Introducing Email-to-Case Advance
At Grazitti, our commitment to excellence goes beyond our products. Our values are the very essence of who we are, the driving force behind everything we do. We imbibe these values into every interaction we have with our customers, partners, and employees. It's not just business; it's a relationship built on trust, integrity, and a desire for success.
Now step into a world where support agents effortlessly conquer daily challenges with just a click. At Grazitti, the Salesforce specialists have built Email-to-Case Advance. A Salesforce-native & Lightning-ready solution, it simplifies the job of support agents with efficient processes and automation. With Email-to-Case Advance, you can enable record types, keep different teams in the loop, extend case comments for outbound and inbound email, and more.
Agent Case Management
Case Resolution and Turnaround Time
High Customer Satisfaction and Retention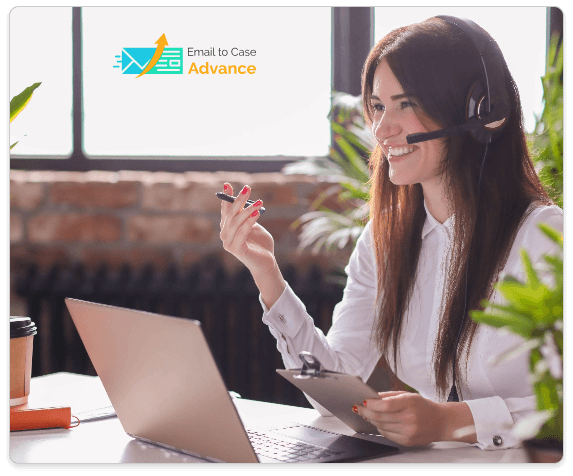 Email-to-Case Advance Features
Clean Case Comment Creation from Email – Enable to create case comments from emails and remove unnecessary threading
Add Watchers on Case
Keep Everyone in the Loop – The ability to manage recipients using functionalities like blacklist and exclude list emails and domains.
Enhanced Comments – Extending Case Comments for Outbound Emails and Inbound Emails – Include salesforce limitation of Long Comments above 4K bytes
Keep different Teams in loop – Include Case team and Account teams
Personalize Case Comment Page – Customise the Add Case Comment Page like Case fields,
Prevent Email Looping – Prevent email looping caused due to out of office and other reasons
Add Watchers on Case
Auto-Attach Attachments – Email to Case Advance supports both auto-attachment of files and attachments
Configure Automated Article Suggestion – Suggest KB articles in the Acknowledgement email sent to Customers
Manage Communication on Closed Cases – Decide what should happen when a customer responds to a closed case
Manage Forwarded Cases By Internal Team – Define the criteria to handle email forwards by engineers/Account Manager
Handle Cases from Non-Customers – Customize the settings for cases coming from the user who dont have account on Salesforce
Enable Duplicate Case Merge – Define the criteria to handle duplicate cases
Watch Email-to-Case Advance in Action
Easy Following of Case History
More Accessible Information
Combining Multiple Actions Into a Single View

Improved Customer Engagement
Consistent Communication Between Customers & Agents
Organized Customer Interactions
Learn How this Case Management Solution Works
Transform Service Challenges Into Satisfied Agents and Customers
| | |
| --- | --- |
| Tedious Manual Tasks for Agents | Streamlined Workflows With Minimal Manual Effort |
| Limited Automation and Customization | Advanced Automation and Tailored Customization |
| Higher Frequency of Case Duplication | Seamless Management of Duplicate Cases |
| Repetitive Use of Similar Comments | Comment Templates |
From Our Blog
Businesses that go the extra mile to mak...
28 Sep 2023
in
Email to Case Advance, Products
Picture this: You're standing in l...
21 Sep 2023
in
Email to Case Advance
"A satisfied customer is the best busi...
20 Sep 2023
in
Email to Case Advance, Products
Visit Our Blog