Importance of ITSM
As a business grows, it becomes prone to cyberattacks. Secure IT infrastructure is key to keeping data assets safe.
With reliable IT support, you will be able to identify weak spots in your network. You will have proactive security solutions in place, as well as a disaster management and recovery plan to prevent breaches.
Smart and well-planned IT infrastructure enables you to boost employee productivity and provide a superior user experience by helping you reduce downtime. IT services management is therefore invaluable to business.
How Grazitti Helps You Build Robust ITSM Infrastructure
Effective Security
Solutions
Business Continuity
Management
Increased Employee
Productivity
Flexible & Scalable
IT Infrastructure
Our Process
Schedule a 30 min call
with our IT experts
Discuss the challenges your
company is facing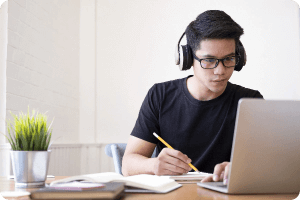 Wait for us to check out a
strategy for you
Frequently Asked Questions
What is the difference between ITSM & ITIL?
ITSM is the professional discipline and practice of managing IT as a service. ITIL, on the other hand, includes best practices for IT services management. It also defines the terminology used to support IT services, such as 'Incident', 'Change', and 'Configuration Item'.
What services are included under IT Services Management?
ITSM involves service-level and request management. It also includes the management of incidents, problems, configurations, as well as change and release.
How does the ITSM process work?
The primary aim of IT Services Management is to deliver IT as a service. It involves IT teams and managing the end-to-end delivery of IT services to customers. This also includes the processes and activities designed to establish and support IT services.
Why do businesses need IT Services Management?
ITSM enables you to establish processes that optimize the technology, and services built around it. It helps businesses with incident resolution, implementation, management, and hardware-software operations.
How much does IT Services Management cost?
ITSM solutions are priced on the basis of the number of agents or users with login credentials to the system. The type of services and tools you are opting for also affect the cost.
Plan a Strategic Approach to Effectively Manage IT Services Lifecycle
From Our Blog
Today, cloud storage has become one of t...
24 May 2023
in
IT Service Management
Low-code and no-code platforms have been...
24 Aug 2022
in
IT Service Management
"I&O leaders need to drive change,...
18 Jul 2022
in
IT Service Management
Visit Our Blog