All You Need To Know About Virtual Events
Has your inbox been flooded with emails with subjects such as "Free virtual event", "Join our webinar", or "Register now for our free virtual conference"? Well, ours sure has!
This indicates an increase of virtual events. While they have been around for years, their popularity has gone up exponentially in 2020 due to the COVID-19 pandemic. In fact, the virtual events market is expected to grow by approximately $269.20 billion during 2021-2025.
In this article, we discuss the future of virtual events and how you can drive engagement and boost ROI from these events.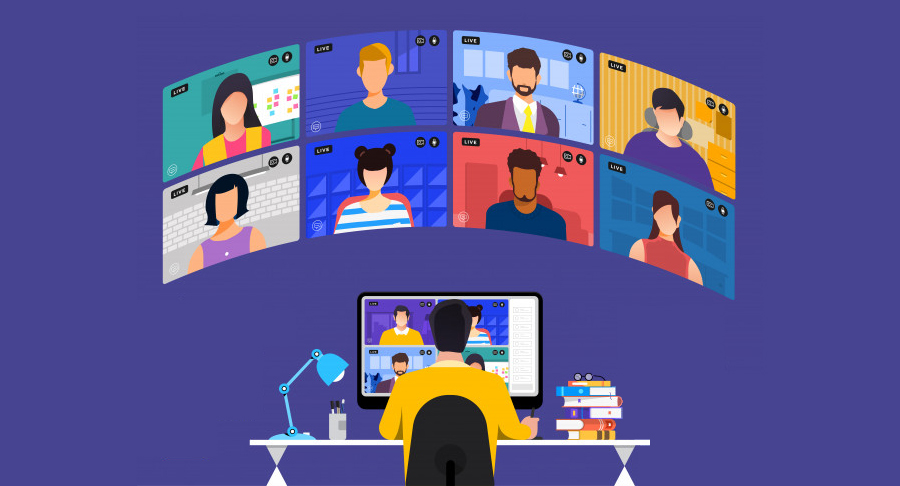 But before we deep dive, let's take a look at the three forms of virtual events that have seen massive growth in 2020.
1. Webinars: Webinars are popular among marketers, with a total of 95% of respondents seeing them as important for their strategy. Usually lasting 45-80 minutes, companies either charge the registrants a fee to join webinars or offer them a free entry. Given their educational nature, webinars manage to garner a large virtual audience.
2. Virtual Conferences: Conferences have moved from the convention hall to the Internet during the pandemic. Similar to in-person events, virtual conferences include speaker keynotes, sessions, etc. Attendees can attend keynotes in real-time plus network with other attendees.
3. Internal Hybrid Events: A great option for organizations that have offices in multiple countries, internal hybrid events are held to benefit your company's internal stakeholders, including employees, leadership, staff, etc. These include sales kickoffs, town hall meetings, larger team meetings, and more.
4. External Hybrid Events: These are user conferences or industry conferences, held for those outside of an organization. They are targeted towards your customers, prospects, clients, etc. External events include, conferences and trade shows, customer conferences, product demonstrations, and more.
Are We Going Virtual or Opting for a Hybrid Model?
The Las Vegas and Orlando convention centres, which were once the destination for having annual business meetings have now been replaced with virtual digital sessions.
In fact, 2020 saw several brands such as Adobe, Microsoft, NVIDIA, Facebook organize virtual events to generate engagements.
According to the trends seen in the first half of 2020, the digital networking sessions will outnumber the earlier revenue estimates of $404 billion by 2027.
Having said that, while we saw virtual events becoming a part of the new normal, hybrid events are also emerging. Successful in situations where you want to combine both in-person and virtual attendees, hybrid events are going to be a part of the new normal era.
In other words, you take your live event, with an audience, content, etc, and you add a virtual component to it so your audience can participate and engage with your event, no matter where they are.
This model increases reach & attendance, reduces travel and environmental costs, improves return on investment, and more.
How to Drive Engagement and ROI?
Virtual events have gained importance because they are economically viable and convenient. Potential audiences from all over the world participate in such events thus making it a huge success. But how can you drive engagement and boost ROI? Let's find out:
Event KPIs and Metrics
Virtual events have the following KPIs to track the success of the event and demonstrate whether you were able to hit business objectives.
a. Event check-ins
b. Event surveys
c. Net Promoter Score
d. Active community members
e. Interactions within the event community
These KPIs depend upon how you have planned your event objectives but defining and measuring each of the KPIs can help you understand whether the event was a success or not.
Monetizing Virtual Events
Sponsorships can generate revenue and play a vital role in connecting buyers and sellers via live presentations. On the other hand, virtual sponsorships can help in strengthening brand image and capturing leads.
Virtual venues are a great source of expanding branding opportunities with sponsor recognition options. For example, the landing page where attendees reach after login, can include video messages by high-level sponsors.
However, limiting sales to the day of the conference is not a good idea, instead try to build more revenue potential by creating digital libraries. It can have conference readings to sell and attract leads even after the event has ended.
Give the customers free access to the digital library for a session. This will help generate qualified leads who might also return to purchase more content and register for further events.
Keep the Virtual Session Interactive and Engaging
If you would like a vast audience to be present at your virtual event, you need to make it engaging and interactive. So, the first step should be customizing content according to the target audience. Here's how you can achieve this:
a. Take note of the attendee's online behavior and make personalized session suggestions.
b. Polls, Q&A, and gamification can be used to find out the audience's interests and sessions can be customized on the basis of that.
c. Invite the attendees to consume the recorded sessions available at your digital library.
d. Virtual networking should also be taken into consideration. Build people-to-people connections with your attendees by scheduling virtual networking sessions.
e. Networking among like-minded attendees via group chats, virtual cocktail parties should be encouraged.
f. Modern platforms make use of registration data and event marketing skills to connect participants, speakers, and virtual exhibitor booths with similar interests.
g. AI tools can be used to match attendees with shared interests. This technique called 'virtual speed networking' is a great way for networkers to start a conversation with different attendees.
Event Technology
In 2020, event planners adapted virtual event technology to organize and plan events digitally. This is going to be a trend in the future too. Cvent and Cisco, the big shots in the tech space have started investing in event technology and have acquired small companies to expand it's event tech sector.
Here's how event technology can be used:
a. Live 360-degree video or VR can be used to connect a wide audience from across the globe using e-tickets.
b. Employing AI can prove to be a great source of engagement. The future will see the rise of voice technology and voice assistants performing actions and commands, respectively.
Electronic translators have become quite important with the industry moving towards virtual and hybrid events. Giving preference to multiple languages gives you a wider audience available for your virtual and hybrid events. Virtual event platforms come with translation features and hence, have reduced the communication gaps.
Acquire Marketing Intelligence
Virtual events have an advantage of collecting the attendees' data to further analyze.
Every participant can be tracked right from the time –
a. He/she opts-in
b. Makes visits to virtual exhibit booths
c. Downloads content
d. Attends sessions and meetings
e. Participates in Q&As etc.
Even the offline and online event data can be combined and analyzed to improve your audience's experience in the future conferences.
This data integration can help you picture the buyer preferences, understand their pain points, and build business intelligence. A long term multi-attribution model can be used to analyze the ROI of your virtual event, and analytics tools can offer valuable insights to drive future sales.
Leverage Digital Marketing Strategies
The content used for virtual events can be used for promotion to pitch potential audiences. This will encourage them to register and join the virtual event. Here's how:
a. Create content in the form of podcasts, blogs, infographics, eBooks, etc. to convey the crux of the event and distribute it on different platforms.
b. Ensure your landing page is informational and provides attendees with all the information about the event.
c. Send out emails to your clients to register for the event and follow up a day before the event.
d. Spread the word about your virtual event using social media marketing. Inform your target audience about the date, time, and agenda of your virtual event by uploading social media posts regularly.
e. Promote your virtual event by running conversion campaigns where the CTA should be the registration to the event.
Wrapping Up
The shift of the focus to the digital platforms has been more than ever. Although face-to-face interactions score higher than the virtual meetings, with adequate technology, going digital is a profitable alternative.
If you are planning to host a virtual event and need help, drop us an email at [email protected] and we'll take it from there.