Enabling Omni-Channel Routing in Salesforce Service Cloud to Manage Case Routing Your Way
Omni-Channel Routing is an out-of-the-box feature in Salesforce Service Cloud that enables routing of cases, leads, etc. automatically to the available agents or to distribute work based on skillset, availability, or workload.
Why Do Support Teams Need Omni-Channel Routing?
In a typical scenario, support agents rely on a list view to identify and select a case, reassign ownership, and then start working on a case. Also, there is a higher probability that low-priority cases get picked before those with a higher priority.
The purpose of the Omni-Channel Routing is to automate the process, prioritize the work, and assign it to the right agents based on their capabilities.
Basic Terminology
Routing Configuration – Prioritize the work items from the queues and determine how they are routed to agents.
Routing Priority – Determine the order in which work items from the queue are routed to agents.
Units of Capacity – Indicate the amount of an agent's overall capacity that's consumed when the agent is assigned a work item from the queues.
Push Out Time – Show the amount of time assigned to an agent to respond to an assigned item before it's pushed to another agent and change their status.
Setting up Omni-Channel Routing
Step 1: Configure Queues
Create 'queues' and link the routing configuration to these queues to route 'work items' to the agents in real time.
Agents don't have to manually select work items from queues because Omni-Channel Routing does that automatically.
Step 2: Presence Configurations
Create presence configurations to determine the amount of work that agents can pick up and what Omni-Channel behaviors they can access while they assist customers.
2.1) Presence Status
Indicate when agents are online and available to receive work items from a specific channel, or if they're away or offline.
2.2) Decline Status
Define decline statuses for agents to select a reason when they decline a work item. Some examples are as follows:
Assisting Team Member
Completing Open Tasks
Face-to-Face Escalation
Management Request to be Offline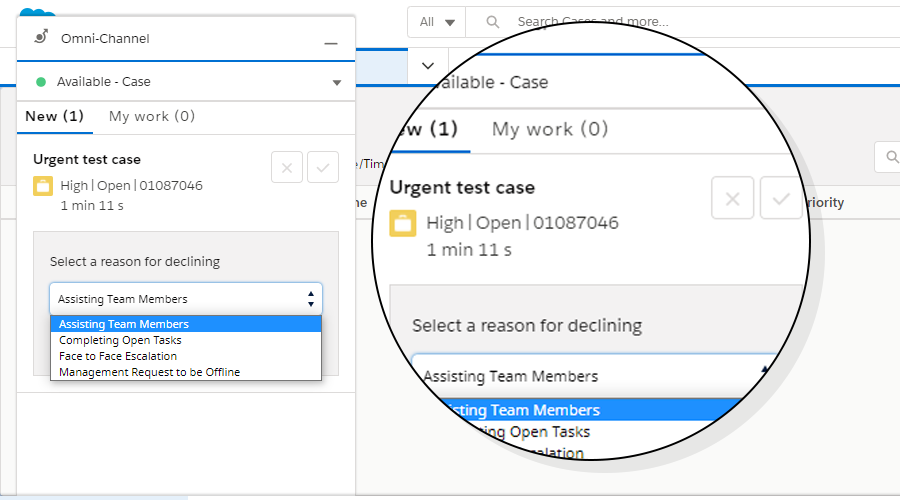 Step 3: Process Flow
Following are some dummy scenarios to explain how to set up and define the process flow:
3.1) Urgent Case
Define the scenarios to identify the urgency of cases. For instance, if words like 'Urgent', 'Immediately' are included in an email to the support email address, a case is created and is assigned to the respective queue and available member of the queue.
Note: The agent will have the option to accept or reject the case based on availability. If the agent declines the case, a reason has to be specified.
3.2) External Case
When a case is created by a partner or by an external user, specify a record type under which a case is to be created and assigned to a member of the specified queue.
3.3) High-Value Case
When an opportunity is associated with a case, and the amount of the Opportunity is more than a defined limit, it is automatically assigned to the members of the high-value queue.
3.4) Unassigned Case
When no Opportunity is associated with a case or the associated Opportunity is valued under a defined amount, a case is assigned to a member of the unassigned order processing queue.
Conclusion
The chances are that Omni-Channel Routing, however, is enabled based on the individual business requirement. So, the setup process would largely depend on the business requirements and process.
Need help setting up Omni-Channel Routing in your Salesforce Service Cloud?