How is Salesforce Revenue Cloud Revving Up B2B Journeys
Businesses want to run frictionless revenue operations. So, they need a robust monetization platform that connects their sales, operations, and finance teams to a unified source of truth.
That's where Salesforce Revenue Cloud comes into the picture.
It comes with multi-cloud billing which helps organizations leverage data living in various Clouds to generate new revenue streams.
With Salesforce Revenue Cloud, businesses can simplify their buying process, bring different teams together, and expand their revenue streams. It also enables brands to maximize their revenue growth.
Find out more as our experts, Deepak Vishwakarma and Divya Bhatt discuss all about the Salesforce Revnue Cloud in this episode.
They'll let you know how Salesforce Revenue Cloud decreases manual effort, accelerates efficiency, tracks customer purchases, and creates new monetization techniques.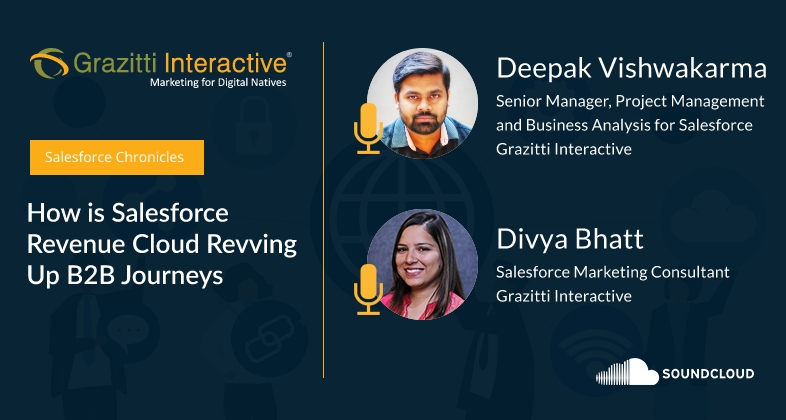 Here's What You'll learn:
How Salesforce Revenue Cloud Revs Up B2B Journeys
How Salesforce Revenue Cloud Decreases Manual Effort and Accelerates Efficiency
Keeping Real-time Track of Customer Purchases With Revenue Cloud
Createing New Monetization Techniques for Businesses With Revenue Cloud
Featured Speakers
Deepak Vishwakarma
Senior Manager, Project Management and Business Analysis for Salesforce, Grazitti Interactive.
Deepak is the Senior Manager, handling the Project Management and Business Analysis functions for Salesforce at Grazitti Interactive. Deepak is a forward-thinking leader, passionate about finding unique applications for Salesforce that move businesses towards success. His 15 years of extensive experience and passion for technology and solving complex problems makes him an indispensable part of the organization.
Divya Bhatt
Salesforce Marketing Consultant, Grazitti Interactive
Divya is a result-oriented marketer and technology enthusiast with a penchant for creating engaging marketing campaigns. She is well-versed in improving buyer engagement through go-to-market strategy, market research, and demand campaigns. A HubSpot Inbound Marketing and Inbound certified expert, she is passionate about building realistic and measurable marketing strategies that result in pipeline creation.