Making Customer Experience Your Competitive Edge
Zendesk empowers your teams with the right tools to positively impact your bottom line. It makes it easy to deliver personalized support experiences on every channel, all while reducing the cost and complexity of service operations.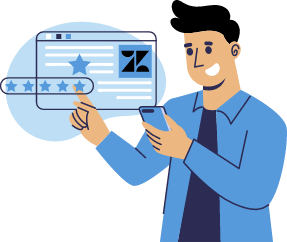 Grazitti + Zendesk = Your Customer Service Operations Amplified
From strategic implementation to always-on service, we ensure that you get the best value out of Zendesk and
are on the path to customer success.
Implementation
Count on our Zendesk specialists for a smooth and hassle-free implementation so that you're off to the best possible start.
CX Strategy
Unlock the full potential of Zendesk with a well-defined customer experience strategy that aligns with your business goals.
Migration
Make a seamless move from your legacy platform to Zendesk. Migrate your data from various platforms such as Salesforce Service Cloud, Jira, and more directly into Zendesk.
Custom Integration
Integrate Zendesk with your entire tech stack, or we can develop custom apps and integrations that seamlessly integrate any third-party applications with Zendesk and vice versa.
Software Optimization
Reconfigure and fine-tune your Zendesk platform as per your evolving business needs.
Onboarding, Training, and Support
Extend Zendesk training, onboarding, and technical support for clients to make the best use of their Zendesk investment and improve their skills.
Audit
Perform an in-depth evaluation to identify areas of improvement to help improve your customer & agent experience.
Customer Success Story: How We Solve Complex Business Challenges
Here's how Grazitti optimized CX and lowered support costs with Zendesk customization
In this age of customer-centricity, customer experience (CX) is officially the new battleground.
To give customers an experience as unique as themselves, Zendesk can be your ally, if aligned with your business needs and customer support processes.
We streamlined the ticketing workflow and improved self-service by customizing the ticket handling procedure on Zendesk for a customer.
Our Expertise With Zendesk Suite
Zendesk Support
A robust platform for tracking, prioritizing, and solving customer support tickets.
Zendesk Sunshine
An open, flexible, and powerful CRM platform to build the best customer experience.

Zendesk Sell
A sales automation software to enhance productivity, processes, and pipeline visibility for sales teams.
Zendesk Gather
A community forum for customers to connect and collaborate.
Why Choose Us?
When you think of superior customer experiences, think Grazitti.
Streamline
Support Operations
Resolve Customer
Issues Quickly
Improve
Customer Satisfaction
Boost
Customer Engagement
Integrate With Multiple Platforms
for Operational Efficiency
Our Customer Success Stories
Setting up Zendesk Support & Help Center and Integrating Zendesk With Slack & Jira for Better Service Operations
Download Now
Optimizing Customer Experience Leveraging Zendesk for an Online Brand Management Company
Download Now
From Our Blog
In today's highly-connected and cu...
23 Aug 2023
in
Salesforce-Integration, Zendesk
Providing exceptional customer service i...
AI is changing more than just the world ...
Visit Our Blog