If you work in design then you already know how important it is to empathize with end users and create designs that maintain a fine balance between organizational goals and user expectations. Bringing these two factors together in a creative manner is what micro-interactions do.
Micro-interactions are small moments in an application or a web page that are associated with a single use case. Some common examples of micro-interactions include:
Synchronizing data or devices
Changing settings
Creating a password
Updating status
Adding a favorite
Liking or sharing something
You engage with micro-interactions several times a day; when you like a picture on Facebook or log into an application. They are everywhere, in your phone, tablet, desktop, laptop, and even home appliances.
These small design elements are not just mere details, but the key to communicating a message to users and creating an emotional impact by engaging their senses.
If you feel comfortable using a product and find it engaging then it is because of micro-interactions. They determine whether you will tolerate a product or love using it.
How do micro-interactions work?
A micro-interaction indicates whether an action was successful or if it failed.
There are four basic elements of micro-interactions. Let's take a look at each of them: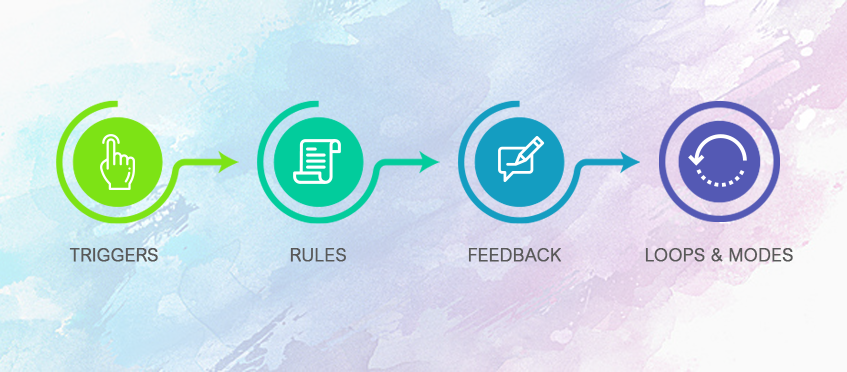 Triggers: A system generated action initiated by the user on an interface. Common triggers include click, pull, scroll, swipe, and tap.
Rules: This micro-interaction defines what happens when a user interacts with a trigger. For example, a swipe on Tinder, a click on a tab, and scrolling down a webpage.
Feedback: The response that a user receives after the action is complete. For example, if you miss a field while filling a form, the field is marked red.
Loops and modes: Loops are what happens at the end of a cycle. They are the meta-rules of a micro-interaction and change during repeated usage. For example, when you buy a product from an eCommerce website once, the 'Buy Now' button changes to 'Buy Another'.
You might feel that micro-interactions go unnoticed by users but they do not. Completing a micro-interaction successfully adds to their experience immensely.
Designers need to understand that simplicity and consistency are the keys to creating successful micro-interactions.
Micro-interactions are small. Heaping them with complicated elements deteriorates user experience. Users lose interest or become irritated and stop using the application altogether.
The design should be consistent and all the elements should be crafted in a neat layout. From colors to the placement of components, it has to be simple.
They should draw attention to the sections of the interface that users interact with often. User perception should always be kept in mind and the animations should be designed accordingly.
Animation should serve a clear purpose and should not appear forceful at any point. Aim for perfection to the minutest details and make every interaction a fruitful one.
What are the benefits of having micro-interactions?
Improve user engagement: Micro-interactions engage users in a better manner. Their effects are more prominent on web pages and in desktop applications than in mobile applications.
Provide immediate feedback: Users always want to know whether their interaction with a particular feature was successful or not. Was their item added to the cart? Or was their form submitted properly? Micro-interactions remove uncertainty and inform users about the errors they might have made while interacting with a web-page or application.
Display system status: You can stay on top of how well your users are interacting with the system. The goal of any system should be to keep users informed about the current status using appropriate feedback in a timely manner.
Brand communication: When you communicate a system's status clearly and make customer experience engaging, a positive message is sent out to the audience and a positive image of your brand is reinforced.
Produce visual harmony: Small effects like a change in color when a button is clicked, a progress indicator for a process, and other forms of feedback enhance a user's visual experience. The key is to make sure that the elements of the interface that create micro-interactions are in perfect sync with the visual elements on the screen.
Enhance user experience with improved functions: Many people depend on applications for a wide range of activities. When you empathize with them, you can find new ways to engage them. Micro-interactions are details that guide users through a website or an application and helps them take the right actions.
Some common examples of micro-interactions include:
Scrollbar
Digital alarm
Buttons
Pull-to-refresh animation
GIFs
Swipes
Email notifications
Video players
Progress indication
Standby indication with touch/tap
To Wrap Up
There is no denying the fact that micro-interactions are an integral part of any website or application. Therefore, it is necessary that you empathize with your audience and create designs for them. How can your design help your audience? Will it make things easier for them? Will it add to their overall experience? Find answers to these questions and you will definitely create an outstanding product.
Are you ready to incorporate micro-interactions in your website and applications?
Get in touch with us today. Grazitti Interactive offers a wide range of design services that align with your requirements and create a solid impact in the eyes of your end users. To know more, email us at
info@grazitti.com
, or visit our
website
What do you think?