Grazitti Interactive is pleased to announce its recent achievement as Google's Premier Partner – the highest possible partner status. As a Premier Partner, Grazitti is officially recognized as a company that exceeds certifications, performance requirements, and the total spend on Google ads. Reserved for Google's most trusted and valued companies, this award means that we will now have exclusive access to additional Google Support and resources. If you're wondering what this distinguished badge really means and how it will benefit our current and prospective clients, read on.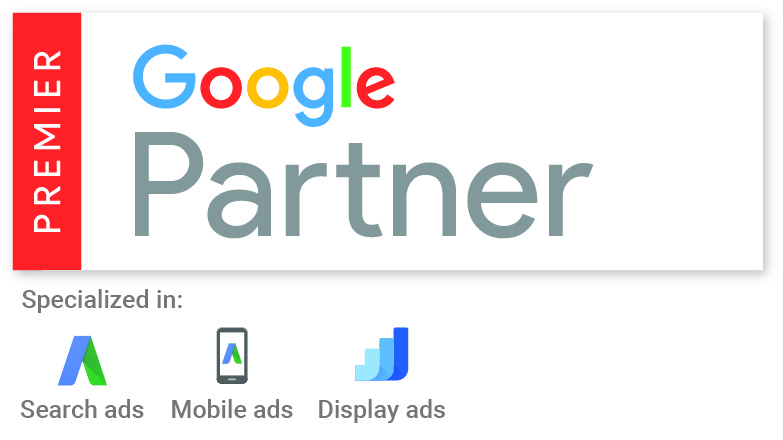 What is a Premier Google Partner?
The premier partner badge is a high distinction given to companies with a healthy client base, a track record of success and an excellent Google product knowledge. In other words, it is Google's recognition that the company has the required expertise to generate results for large clients.
What does it mean for us?
Being awarded with the premier badge enables us to display our expertise, spend requirements and other parameters that will help us gain new clients. While displaying the badge on our website is just one of the many benefits, here are some more:
Being listed on the Google Partner Search website with a custom profile
Being invited to important events hosted by Google
Gaining access to trainings such as executive business trainings, sales trainings, product trainings
Round the clock access to support over the phone, chat and email
Achieving specializations specific to the company

What does it mean for our clients?
To our current and future clients, the achievement of the badge means that our agency is always ahead of the curve and has higher credibility. It also means that our clients will have access to new strategy and offerings by Google ahead of mass adoption.
What are the Premier Partner Specializations?
This prestigious badge helps companies recognize their expertise in five Google specializations. Grazitti is proud to announce its specializations in three of the five categories, these include:
Search Advertising
Mobile Advertising
Video Advertising
As a Premier Google Partner, we are in a unique position to offer our esteemed clients the best services and support to help you grow your business! If you'd like to find out more, leave a comment below![/vc_column_text]
Need Help With Your Digital Marketing Strategy?
Leverage our extensive experience in SEO, pay per click advertising, social media and inbound marketing and get better returns on your marketing investment. Reach out to us at
[email protected]
What do you think?