"There is magic in graphs. The profile of a curve reveals in a flash…the life history of an epidemic, a panic, or an era of prosperity…"
– Henry D. Hubbard
Take a look at this screen grab from an Excel sheet that lists the highlights about global COVID-19 cases, such as confirmed cases and recoveries.
A little ineffective and boring, right?
Sure, Excel sheets serve a range of purposes, but there has got to be a more effective and interesting way of presenting data, don't you think?
Now take a look at the same data presented in the form of a live dashboard.
Image Source: 'COVID-19 World and India Highlights' Public Dashboard on Tableau
What do you think?
Insightful, right?
Well, in a nutshell, that's what data visualization is all about!
Presenting information with visual context not only generates interest but also enables you to make an informed decision.
That may be a critical business decision, or deciding whether or not you should step out of your house during these times.
In fact, did you know that visual language reduces meetings by 24%, or approximately one-fourth of the time?
While that may not seem like much, every minute counts when making critical business decisions, right?
In this blog post, we'll look at what the future holds for data visualization, as well as how it enables you to better understand data.
So, let's begin our journey!
How Does Data Visualization Enhance Decision-Making?
Data enables us to make or modify conclusions we have drawn about the world.
This means that the moment a new data point arrives, bringing with it new information, your conclusions change.
And this is what enables you to make decisions that are driven by critical insights.
Let's take a look at how data visualization enables informed decision-making in marketing, healthcare, and finance.
Understand Trends
The COVID-19 pandemic has ushered in a truly digital transformation, with businesses increasingly investing in digital, as compared to offline advertising.
This implies that marketing teams must understand where online traffic comes from and how it contributes to revenue generation.
With data visualization, you can understand web traffic trends over a period of time and accordingly modify marketing strategies.
Take a look at this visualization from Google Trends about what trended across the United States during 2020.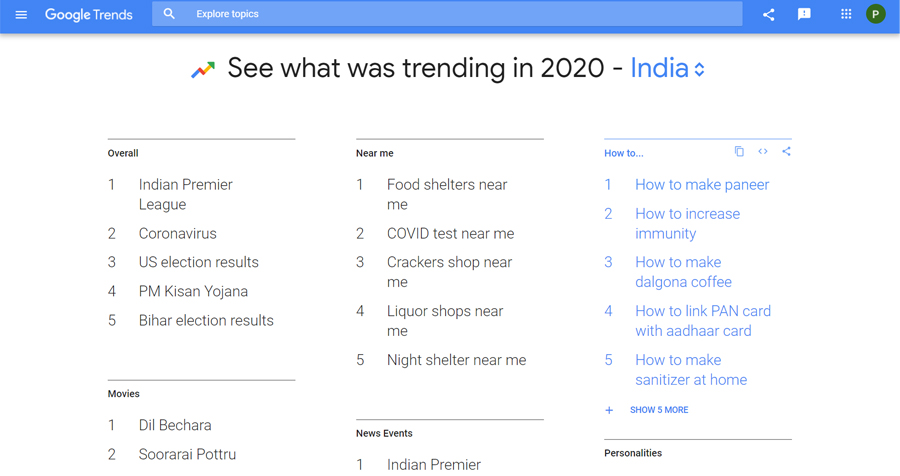 Image Source: US Google Trends, 2020

Visualize Data
In order to visualize critical information, healthcare professionals use choropleth maps.
A choropleth map assigns geographical regions a particular color in relation to a numerical variable.
This enables you to see how a variable such as the mortality rate associated with heart disease, differs across regions.
Here's an example of a map that shows how the health of U.S. citizens is being harmed by climate change, according to geographical region.
Image Source: The Medical Society Consortium on Climate and Health
Building the perfect combination of the right charts and the right story can be tricky.
To learn how you can analyze data and present your findings in an effective manner, take a look at this crisp blog post.
Make Informed Decisions
Before they buy or sell an asset, it's vital for a finance professional to track the performance of their investment decisions.
A candlestick chart enables the monitoring of price movement over time, in relation to securities, derivatives, currencies, stocks, bonds and commodities.
This then helps you find trends in data and make decisions accordingly.
Take a look at this candlestick chart for Nasdaq 100 showing movement in the value of stocks over a period of one year.
Image Source: Investing.com
What Is the Future of Data Visualization?
"Not only will data be visualized more, but the visual reality around us will be turned into data."
Google, Apple and BMW have announced that future products will have data increasingly overlaid in our physical environment with augmented reality (AR).
In fact, it's estimated that 70% of all new cars now have some form of augmented reality.
Here's a data visualization of Apple's new AR wind shield.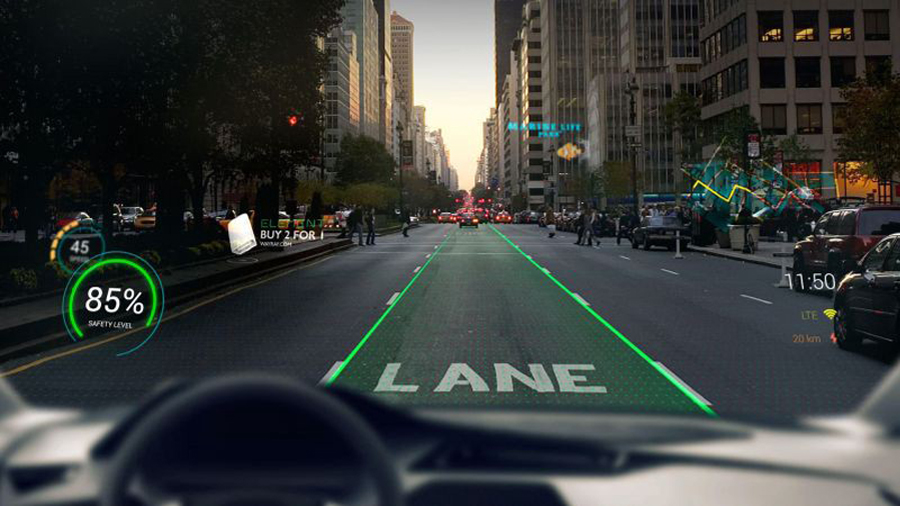 Image Source: Fortune.com
City traffic management is going smart, enabling people to make better-informed driving decisions.
This will save waiting time and create a highly-accurate visualization of traffic flows.
In fact, smart traffic software will enable you to predict where traffic could pile up in the next few hours, redirecting vehicles in order to reduce traffic congestion.
In essence, people will want accurate and useful data to be available and visualized.
With the rising popularity of Tableau and Power BI, companies are increasing the user-friendliness and reach of their data visualization software.
Data visualization tools will allow you to slice and dice data in increasingly different ways.
Wrapping Up
In this blog post, we looked at how data visualization enables you to understand data better, as well as what the future holds.
Data visualization enables you to not only identify relationships, spot patterns and locate trends, but also communicate your story to others.
Want to Drive Business Growth With the Magic of Data Visualization?
At Grazitti, the data analytics wizards know the secret behind creating enchanting data visualization.
Should you want to know more, please write to us at info@grazitti.com and our team will take it from there.
References
What do you think?