Investors. Speculators. Members.
There are many entities that participate in crypto communities.
And to moderate engagement within the community, you need a community manager who has a 360-degree view of all ongoing community activities.
In crypto communities, the role of a community manager goes far beyond simply moderating community engagement. It extends to maintaining a harmonized communication between the diverse network of investors and customers. Not just this, you also have the responsibility to create robust growth strategies that reap ROI for your blockchain organization.
The good news? If you aspire to be a crypto community manager, you do not require technical skills. Let's unravel what it takes to be a crypto community manager and grow in this field.
The Roles and Responsibilities of Crypto Community Managers
Crypto community management is gaining recognition as a legitimate practice for almost every Initial Coin Offering (ICO). Apart from development, community management in a strategic way is undoubtedly a critical task to undertake for any blockchain project.
Community management enables you to cross-collaborate with your vendors, investors, and members. It also empowers you to educate them about your core services and get an idea of what their preferences are.
Here are some roles & responsibilities that a crypto community manager has to take up:
Curate video tutorials in the initial stages
Monitor community engagement
Moderate member behavior
Collect feedback
Strategize for influencer marketing
Share engaging and unique content across social
Next comes the platform that you will be moderating. As a community manager, this is one of the most important responsibilities that you will have. The nature of every community platform such as Higher Logic, Discord, Vanilla, etc, is different and so are the moderation tasks. So, to manage a crypto community, you should have knowledge and experience in handling various community platforms.
Crypto Community Manager – The 'What' & 'How'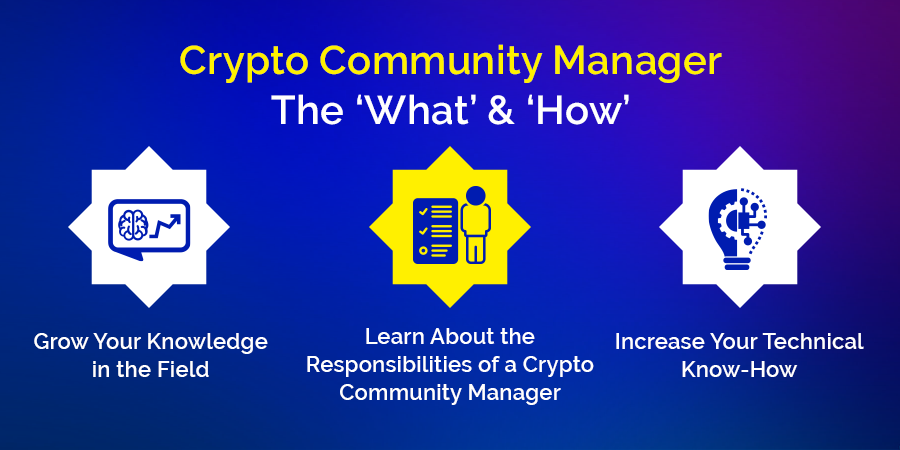 A crypto community manager is a professional who looks after a digital currency company's engagement strategy and communication via online communities.
They are experts in blockchain technology and cryptocurrency. Crypto community managers follow and create crypto charts to get a full market view. They have a good understanding of what ICOs are and the ups and downs of the industry.
Here's what you should do to become a crypto community manager:
1. Grow Your Knowledge in the Field: The key to unlocking crypto community management is knowledge. As a community manager for a blockchain community, you will be spending most of your time answering member queries and searching for new innovative engagement ideas. You need to have fundamental knowledge about how cryptocurrency works to serve your customers better and offer accurate solutions. You can participate in numerous crypto communities such as Blockchain Community, Discord, Telegram, and Reddit.
2. Learn About the Responsibilities of a Crypto Community Manager: Having good knowledge of how an online community operates will enable you to get started as a crypto community manager. Ensure that you're well aware of the responsibilities that you will be handling as a community manager for an online community specific to the blockchain niche.
3. Increase Your Technical Know-How: As a crypto community manager, you will be able to get experience in various areas of digital marketing and how the industry operates. You should stay laser-focused on growing your knowledge about the crypto industry and community management to excel in the field. Community management gives you the opportunity to study member behavior closely and prepare the next step of action based on their needs. It's your chance to explore all about the nitty-gritty of crypto community management.
The market for cryptocurrency is expected to grow by $23.3 billion[i] by 2023. And crypto community management is something that will gain momentum. Before starting your journey as a crypto community manager, ensure that you have acquired the desired skills and knowledge about blockchain in combination with community management to excel as a crypto community manager.
Wish to build cutting-edge online communities that reap ROI? Talk to us!
Team Grazitti has extensive experience in building multi-dimensional online communities that empower you to take your business to the next level. To know more about our
CMaaS
expertise, drop us a line at
info@grazitti.com
and we'll take it from there.
References:
[i]https://techjury.net/blog/cryptocurrency-statistics/#gref
What do you think?