Today, customers are generating more data than ever before!
About 78% of online marketers are using big data to grow their customer database especially to help them understand the latest marketing trends that keep their products and services relevant to their potential leads and to achieve customer retention and loyalty.
What if you can transform the way your company collects, analyses and distributes the critical business data including CRM, ERP etc. and unifying it into a single view to improve your customers' entire experience? In this competitive business environment, organizations not only need to find and analyse the required information but they also need to find it quickly. Advanced Visualizations help to rapidly access the information, enabling to take decisions quickly. But, the biggest challenge is the huge volume of data and the level of facts required from that data, all with agility and good quality.
Here's where the amalgamation of latest technological platforms come in. Let's have a look at these tech-tools:
Salesforce.com (SFDC)

is a cloud computing technology platform that doesn't require any software/hardware installation as it is available on cloud. It is a CRM (Customer Relationship Management) model that runs on Force.com platform. SFDC allows to create custom applications, sell them and also to buy apps from its store – AppExchange. It provides a full suite of services in order to manage customer lifecycle. Some of the important SFDC wings are:

-Sales Cloud

-Service Cloud

-Chatter

-Force.com

-ApexForce.com

-Data Loader

-AppExchange

Tableau

enables to build self-explanatory web dashboards & reports with advanced analytics, and can be accessed from any browser or even smartphone. Tableau contains a direct connector to pull data from Salesforce.com and can embed the dashboards into Salesforce.com in minutes. It can refresh the data with a live connection and automatically updates the dashboards – helping to take real-time decisions. It enables the leads, opportunities, account management and pipeline coverage. Tableau helps to use analytics at each and every step of the Sales process.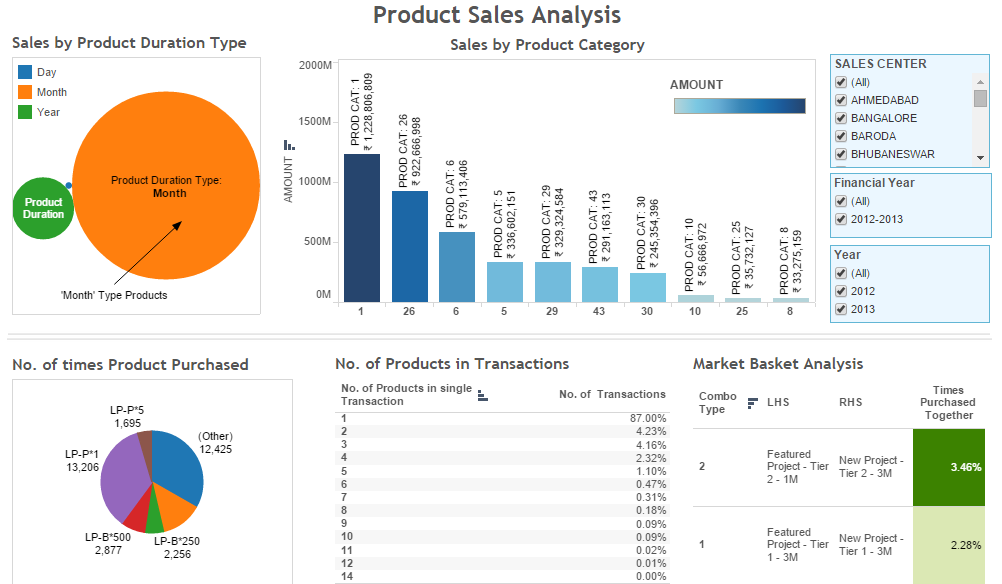 How to connect to Salesforce data using Tableau?
Connection to Salesforce can be established in the same way as we connect data to excel sheets, text files and spreadsheets using the easy Tableau interface. Once you sign in your Tableau account, the steps are as follows:
Image credits: tableau.com
Go to

Connect to Data

and select

Salesforce

from the list of connectors inside Tableau.
Enter the

Salesforce credentials

, username and password. Depending upon the setup of the Salesforce server, you may be assigned a Security Token to append at the end of password. The server is login.salesforce.com by default.

Establish the Connection

that will locate the server and allow you to access the data.
Further,

Select the type of Connection

, which can be either Standard, Single table or Multiple tables. Basically, you have only two options to fetch the data:

Join tables (Multiple Tables): It is useful when you want to display the information from more than one table in a single worksheet.
Single table: It is useful if you want to analyse the data for individual table.

Assign a Connection name (E.g. Table name from which you're extracting the data from) and click OK.
Tableau will now pull the data from Salesforce by creating an

extract

. The data can be updated by refreshing the

extracts

.
Now the data is ready to view using the

Tableau Visualizations

.
Next Level: To Embed the Tableau Dashboards into SFDC
Tableau enables to embed the dashboards into Salesforce.com just in few minutes. Following are the steps for the same:
Login through Admin using

login.salesforce.com

Go to

Setup

tab and select

Manage your Custom Tabs

Select

Web tabs

and click

Next

and follow the below steps:

Choose

Layout

as per the requirement and click

Next

Define

Content and Display

properties by providing necessary details
Enter

URL Details

and click

Next

In

Add to profiles

select the users who can view the dashboards and click

Next

Add to

Custom Apps

and

Save

Dashboards would then get embedded into SFDC and a tab by the name

"Tableau after Login"

would appear
Need Advanced Reporting now?
For more advanced reporting, we at Grazitti InteractiveTM fuel the Tableau visualizations using Alteryx. This provides a seamless analytic platform for data blending that mergers internal, third party & cloud data, and analyses it using drag-and-drop tools. Our data scientists have helped brands like Alteryx itself, DealSignal, and more for Advanced Visualizations and Analytics, helping them with accurate forecasts and better decision making. To reach out to us, just drop a word at info@grazitti.com.
Disclaimer: Salesforce, Service Cloud, Chatter, SFDC, Salesforce Communities, etc. are all trademarks of Salesforce.com Inc.
What do you think?