"Forbes PWA loading speed on mobile is 2.5 seconds on mobile as compared to 6.5 seconds on its website."
Progressive web apps or PWA, have provided businesses with the opportunity to create more rich experiences on the mobile web. As a result, more businesses are looking forward to PWA development with robust PWA designs.
However, to deliver a native app-like responsive experience, PWA needs to offer the best possible UX.
In this blog post, we tell you the top 7 tips to build a great UX for your progressive web apps. Let's get started:
1. Focus on Both Desktop and Mobile PWA
A Progressive Web Application should have a noteworthy and user-friendly UI and UX. While mobile devices have taken over desktop computers, a great user interface should be prioritized for both mobile and desktop devices.
For a mobile PWA, you can select the most popular features to add such as payment or receipt features, and add filters to search, etc.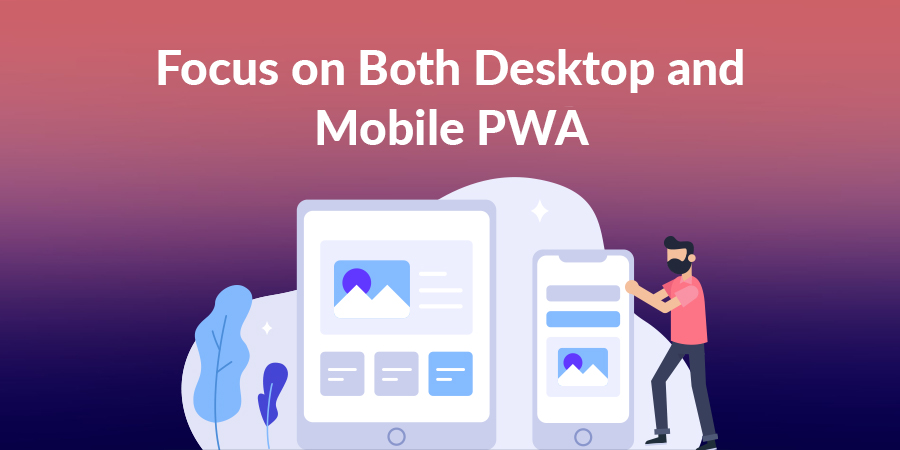 A desktop PWA can have extended features such as a grid, some optional spacers, or graphical elements in the form of illustrations.
For example, Twitter Lite uses such extended features for desktop while it eliminates the unnecessary ones in its mobile PWA due to space limitations.
2. Avoid Adding Footer
You won't find a footer in native apps and this is what can be followed while creating a PWA. A navigation bar with menus visible at first glance is sufficient because users aren't willing to scroll till the footer.
The PWA of Weather Channel is an example of putting the footer to appropriate use. Its bottom bar consists of hourly to 10-days forecasts, live radar, and video feeds.
On the other hand, the Weather Channel's PWA menu contains all the pages that are otherwise a part of the footer.
3. Display Custom Splash Screens
The launch screen or boot screen that appears for 2-3 seconds while an application is loading is called a splash screen. Customizing this screen can make your PWA look like a native app.
Therefore, the focus should be on making those 3 seconds worth the user's time. You can customize the image size based on the screen size, and create a minimalistic design with a good color choice and make it a creative display.
This will keep the user engaged and improve their interaction with your PWA. You can also boost your brand performance by creating a splash screen design that fits an Android or an iPhone device.
4. Ensure Cross-Browser Functionality
Adding support for cross-browser compatibility, you will be able to cater to a large number of users without disrupting the user experience.
Since PWA relies heavily on modern browsers, it might not be supported with previous browsers like internet explorer. Since every browser is implemented differently, it is thus crucial to run a PWA on each of one of them.
How every browser handles a particular situation should be reviewed. You should manually check the loading speed and rendering of the website on mobile and desktop devices in different browsers.
The word 'Progressive' in progressive web applications suggests that while designing a PWA, cross-browser testing is imperative to check compatibility with PWA features.
5. Get Rid of Scrolling Glitches
From a user's point of view, too much scrolling is not a good idea. To avoid scrolling glitches or an infinite feed, use a virtualized list instead.
Twitter's PWA, Twitter Lite implemented a virtualized list component that only renders the content seen within the viewport. Using the request Animation Frame API, it also incrementally renders items over multiple frames. Hence preserving scroll positions across different screens. Even the implementation of skeleton screens can go a long way in providing a seamless user experience.
6. Aim for Smooth Navigation
Progressive web applications are treated as a mobile app from a user's perspective, and a website from a technological perspective.
Focus on creating your PWA as you would develop a native app. Apart from getting rid of a footer, you can add a small navigation bar that doesn't occupy much space.
Touch gestures should be avoided as they are difficult to code from a UX point of view. As a thumb rule, a complex design that disturbs a user's experience should be avoided.
7. Leverage Google APIs
The new web standards have made possible a lot of things, which were earlier only available for native apps. Google has contributed immensely to this by shipping 251 APIs to create absolutely rich web experiences. The major APIs that can be leveraged are –
a. Credential management API: Users tend to leave a page if they're directed to a sign-in page. Wego, a travel company based in Singapore built a successful AMP-based PWA to enhance the user experience. The credential management API let the travel team develop a web app that could automatically access the credentials saved in the browser.
b. Payment request API: Mobile shoppers often need to fill in long forms while checking out. The payment request API removes checkout forms and offers an effortless experience. Merchants can request and accept any payment within one API call.
c. Service workers: This API allows using the app features even if there is no internet. Starbucks PWA is similar to its native app and has a web ordering system that works offline as well. You can view the menu, place your orders, customize them, and process your payment without an internet connection.
Key Takeaway
PWAs are the future because they help in improving the user experience while offering an app-like experience. Remember, the users using your PWA should be presented with the information they are looking for in the least possible time. Reducing the number of clickable buttons and minimizing text will help tip the scales in your favor.
Need Help In Creating A Great UX For Your PWA? Contact Us.
Our experts at Grazitti Interactive strive to deliver unparalleled services to all our valuable clients. Should you want to know about our services, drop us an email at
info@grazitti.com
and we'll take it from there.
What do you think?