2018 is almost here!
While you just checked the date right now, there's another thing that you need to check — your analytics budget for 2017.
You could put the leftover dollars to optimize your data strategy. But don't blow it on just about anything, spend wisely so that you can be better prepared for 2018.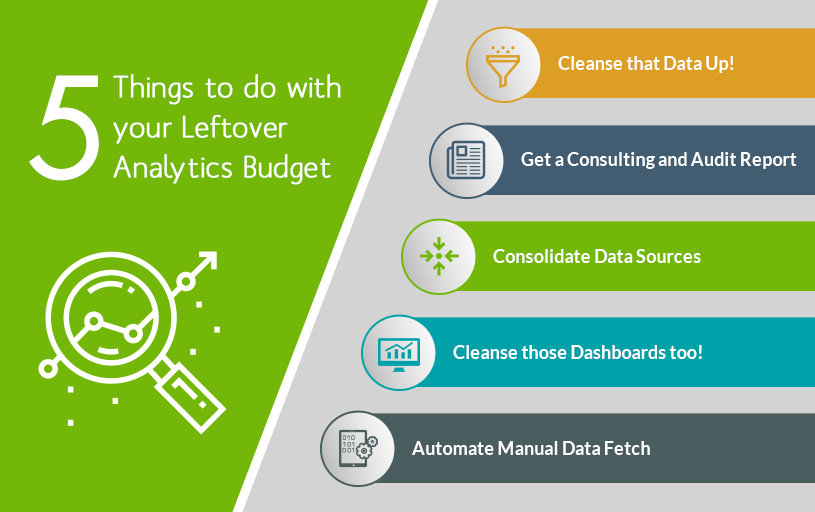 Let's take a look at 5 things you can do with your leftover analytics budget:
Data Cleansing
We all know how hard it is to maintain data. Think errors, dupes, inconsistencies…all of this costs time and money. For effective decision-making, it's imperative to cleanse your data. Invest those precious dollars in identifying what is broken and fixing it.
According to Forbes, poor-quality data imposes costs and risks on businesses. Gartner measures the average financial impact of poor quality data on businesses at $9.7 million per year!
Your leftover budget can be used to purchase a data scrubbing tool or hire a reliable data quality vendor who can cleanse and enrich your data. For instance, our data cleansing tool, Contact Washing Machine, helps cleanse and normalize data in your CRM and marketing automation platform.
Data Auditing
Another way to utilize your leftover budget is to get an audit. To gear up for the future, it's crucial to know that all processes and tools are working. Along with that, an audit can also help you determine the maturity of your organization's analytics initiatives — identifying and addressing obstacles, improving governance, and prioritizing analytics initiatives.
Investing in a data quality tool can be highly profitable as it helps identify all data quality issues, conduct regular assessment, and prepare an efficient data quality report and decide upon actions required to improve data quality.
Data Consolidation
With multiple data sources comes great responsibility, higher costs, and increased inefficiencies. That's why you need to use that leftover budget to consolidate your data sources. Integrating data from multiple sources into a single destination helps in effective data analysis.
With consolidated data, you ensure centralized control of systems and easy access to all enterprise information. This leads to better decision-making. Further, consolidation of different data sources helps in optimized use of resources and sensible investment of funds.
In addition, with reduced endpoints comes increased security of data.
Dashboard Redesigning
Dashboards make it simple to comprehend vast amounts of data and facilitate faster decision-making. By redesigning your dashboard for 2018 and matching it with your branding through company colors, logos, and style, you can ensure that it does not lack any essential elements that encourage easy understanding, such as:
Whitespace – Surrounding the graphic elements, it improves readability and understanding.
Charts and graphs – Knitting and presenting your data story through charts and graphs is always better over a data table.
Maps – Presenting customer data based on locations and markets on a map, helps discover the strongest sales areas.
You can simplify a busy layout by tailoring it for your target audience. This makes the dashboard user-friendly and intuitive. Also, it can help users easily identify latest trends and predict outcomes.
Make sure that the dashboard has advanced features such as drill-down and ad-hoc querying. A well-formatted and well-designed dashboard can provide you with improved visibility and great insight into different business aspects. Most of all, it develops a culture of continuous improvements.
Data Automation
Retrieving data from different platforms for analysis has always involved some amount of manual work, which costs time and reduces productivity. Automating data fetch by leveraging connectors, enables you to focus on data analysis.
A good automation software not only helps improve customer service, but also systematically reduce costs. Automating data allows you to retrieve relevant information quickly, thereby enabling you to respond to customers with agility and saving your time.
Efficient use of data also benefits you in monetary terms, while eliminating the need for additional hiring for data analysis and management.
Stand ahead of the curve and scale up your analytics practice with these 5 simple things you can do with your leftover budget.
About Grazitti Interactive®
Grazitti Interactive® is a Digital Innovation leader with extensive experience in enriching customer interactions, designing engaged communities, enabling digital marketing, boosting customer service efficiency, and driving data-driven decision making. We specialize in engineering Analytics solutions, Alteryx Connectors, Predictive Analytics, Data Integrations and more. To know more about our Data Science solutions, drop us a line at info@grazitti.com.
What do you think?