The digital landscape is continuously evolving. As a result, consumer expectations are dramatically increasing. Consumers now want highly-personalized, omni-channel, and interactive digital experiences. So, businesses need a web content management system (CMS) that can deliver it while successfully achieving KPIs and business goals.
Why Drupal?
With over a million users worldwide, Drupal is the CMS of choice for small to large business organizations. It is an open-source CMS platform with a plethora of features to create compelling websites of different kinds, some of which include:
Personal or corporate websites
eCommerce websites
Intranet
Community portals
Social networking sites
Forums
Resource directories
Blogs, portfolio, and multimedia sites
International multi-language websites
And the list goes on…
Wondering what makes Drupal such a versatile CMS? Let's find out.
Benefits of Using Drupal as a CMS
There are many reasons why Drupal is preferred by various businesses, government agencies, and Fortune 500 companies. Let's look at the most important ones in detail.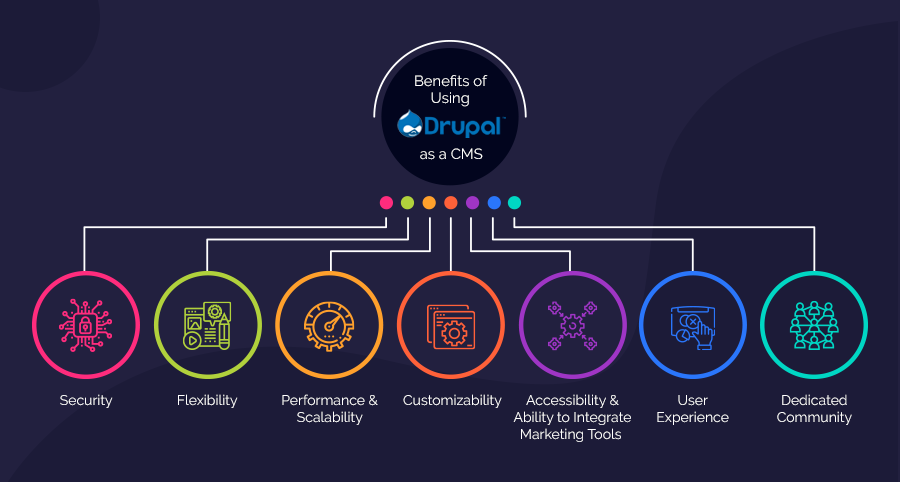 Security
Security is the first priority for any official website. Drupal offers unshakable security, making it a popular choice among government and enterprise-level clients. Drupal's security team is dedicated to identifying and analyzing potential risks in both Drupal core and contributed modules. Each contributed module undergoes strict review by the team before it goes public. Drupal also offers regular security patches to safeguard the website from exploits.
Flexibility
Drupal has a reputation for being one of the most flexible content management systems. It is easy to create and manage a wide variety of content types from videos to blogs, infographics, and podcasts on Drupal. Owing to its flexible design platform, it is perfect for creating content-rich websites for media and commerce. Drupal also has an elaborative script that allows infinite design possibilities along with better control over design element editing.
Performance & Scalability
More often than not, as the website grows, its speed starts to slow down. So, users have to constantly make adjustments. But, that is not the case with Drupal. Drupal is designed to grow exponentially. The website can extend from one to a hundred pages without changing anything. This scalability extends to website traffic as well. Drupal can handle sudden spikes in traffic better than most CMSs.
Customizability
Drupal is nearly 100% customizable. It boasts of over 40,000 modules and plug-ins to enhance the website's functionality. To top it up, custom modules in Drupal give users the flexibility to create new features and/or tweak existing features to accommodate their business's unique requirements. It also offers around 3000 themes that allow users to change the look and feel of their website.
Accessibility & Ability to Integrate Marketing Tools
Drupal is committed to accessibility to ensure an inclusive experience for all its users. All the features and functions of Drupal conform to WCAG, WAI-ARIA, and ADA guidelines. It offers various tools for content creation with WYSIWYG (What You See is What You Get) editor, flexible layouts, and multilingual functionality. It is also good with SEO and integrates well with popular marketing tools.
User Experience
Drupal is driven to offer customer-centric experiences. It has several content personalization modules that provide users with the right experience. Its enhanced caching capabilities help in page loading efficiency and speed. The layout tools allow easy creation of landing pages and reuse of content for different marketing campaigns. Overall, its UX is highly presentable, efficient, and inviting.
Dedicated Community
Drupal is an open-source CMS which means anyone is free to offer ideas, advice, and public documentation. Its community is highly active, approachable, and is steadily growing in the number of users. For every new Drupal release, the community contributes its time and expertise in reviewing, testing, and incorporating feedback to deliver the best experience possible.
Wrapping Up
With Drupal as your CMS, you are empowered to deliver impeccable performance and meet the demands of your consumers. Considering its various features, benefits, and constantly innovating ecosystem, opting/migrating your website to Drupal 9 would be a wise choice.
Ready to Start Your Drupal Journey? Contact Us!
Our web development wizards are dedicated to providing you complete assistance at every step of the way. To know more, send us an email at info@grazitti.com.
What do you think?