Mashable says; an online user on an average receives 147 emails per day! Moreover, 50% of these users admit that they almost or never read all their emails. These non-readers unsubscribe and your email outreach nosedives.
While most of us usually focus on engagement metrics like open rate, click rate, and conversion rates, we tend to overlook the unsubscribe percentage. In most cases, in one go, the percentage ranges around 0.3%-2% per campaign. However, the month-end total can result in lesser leads. Have you ever thought, why your users unsubscribe? Here are some of the reasons as per Hubspot:
What Happens After Unsubscription?
Increase in unsubscribe rate affects your marketing ROI in myriad ways. These include:
Low email conversion: Increase in email unsubscribe % reduces the conversion rate of your future campaigns. Since your database of active subscribers has shrunk, you risk losing potential business.

Poor email reputation:

Many email clients like Gmail, Yahoo check your reputation score before delivering the email in the inbox of your users. High unsubscribe rate affects the reputation of the IP, domain and sender's email that is being used for your email marketing campaigns.

Slow list growth:

Forward to a Friend is an important channel for many companies to ensure list growth. With more users unsubscribing from your list, the future growth of your subscriber base slows down.

Degrades brand equity:

High unsubscribe % increases the risk of your domain or email being labeled as a spammer, affecting your overall brand reputation.
Email Preference Centers
High unsubscribes is a universal challenge and every marketer wants to control it. One of the solutions to counter this is an Email Preference Center. Although, an old concept, not many software allow it and even lesser number of organizations have adopted it.
With Email Preference Centers, you:
Reduce unsubscribe by 37%
Increase email engagement by 41%
Reduce annual list churn by 46%
These centers give your users the control to select the type of content as per their interests and fix the frequency of emails. Two companies that are using this are GE and Spiceworks.
GE Preference Center
Consider the GE Preference Center. It gives its users the freedom to set their preferences for the emails they will receive. Users can select the industry; topic and type of content they would like to receive and can even view the samples for that content, before selecting them. The preference center also allows the users to unsubscribe.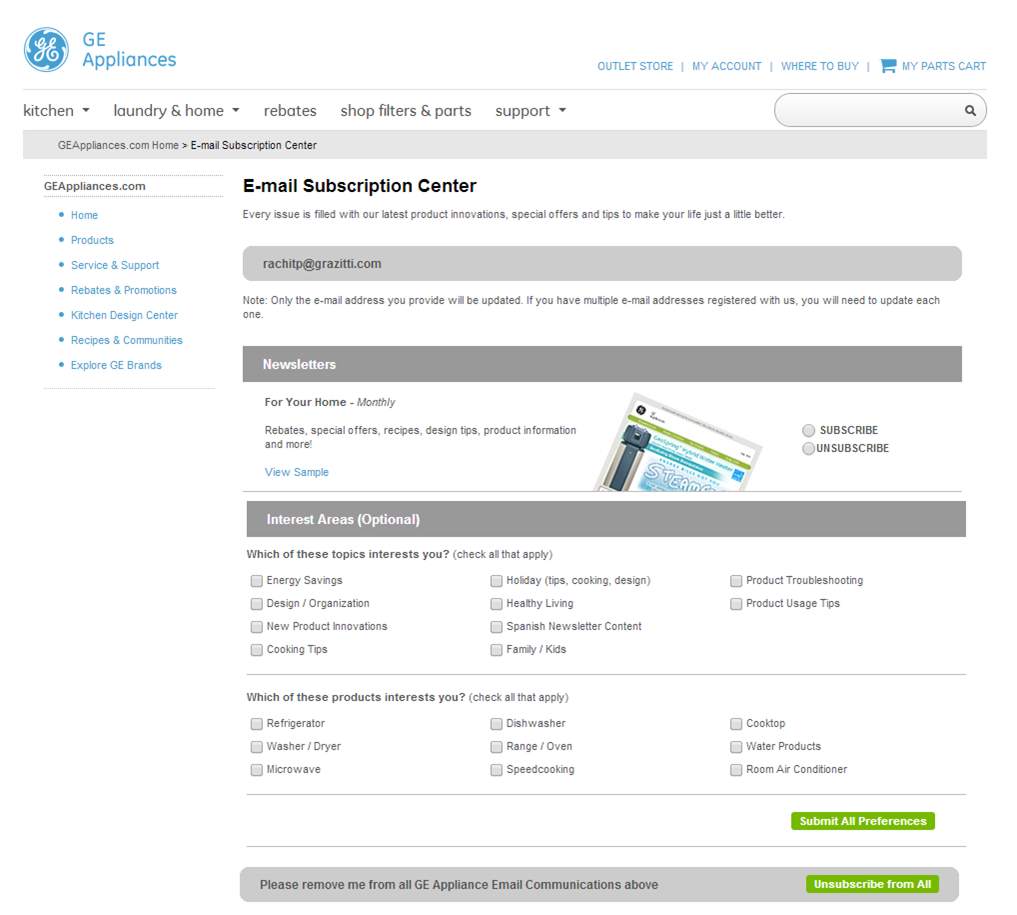 Spiceworks Preference Center
Similarly, Spiceworks has a communication preference center for its community members. Here, the members can view the content that is neatly organized under tabs and can check some samples. They can also set the frequency of email communication.
Like we said, not many platforms offer the option of an Email Preference Center. However, Marketo does. With Marketo, you can build some really cool email subscription preference centers. How to do it? Read in this post
About Grazitti™ Marketo Services
At Grazitti Interactive™, our team of certified Marketo professionals can build Email Preference Centers in Marketo, fully customized as per your needs. Apart from Email Preference Centers, we also provide various other Marketo services that maximize your Marketo investment. Clients like

Tidemark, Appcelerator, Cloudwords

and others have trusted us for their Marketo needs and continue to consult us for any Marketo related queries.
To know more about our Marketo services or get in touch with our experts, drop us a mail at info@grazitti.com
References:
What do you think?