Salesforce Gets a New e-Signature App, Conga Sign
The increasing demand for security and workflow efficiency is driving the e-signature market to grow at a CAGR of 34.7 percent. The market size is expected to hit $9.1 billion by 2023 and Conga wants a slice.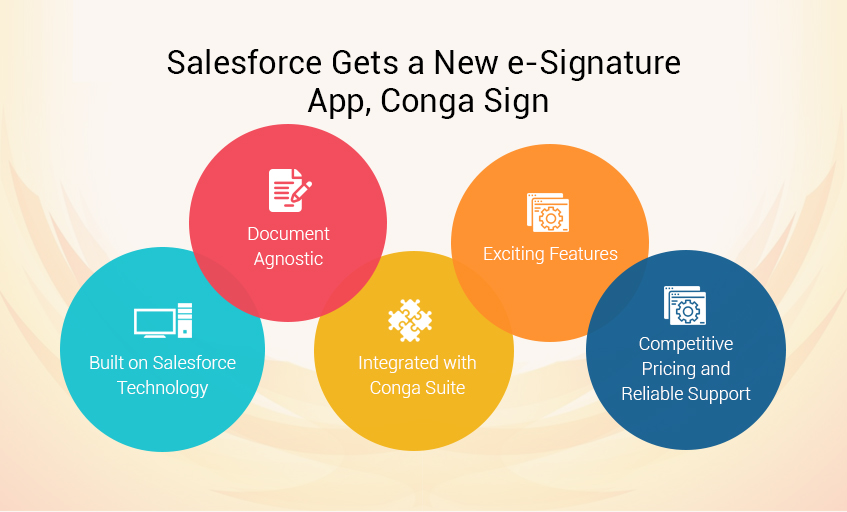 In February this year, the company expanded its digital document transformation suite with Conga Sign. In a matter of six months, the e-signature app has earned a 5-star rating. There are some good reasons for the glowing reviews. Here you will find the top five:
1. Built on Salesforce Technology
Unlike several e-signature apps that were developed first and later ported, Conga Sign has been built from the group up for Salesforce. The interface behaves like any other native function in your org, the app is easy to deploy and use, and the cost of retraining your users is nil.
2. Document Agnostic
Conga Sign works with your existing Salesforce documents and almost any file you might upload from your computer. The other party does not need a license to sign. They can open a document and click to sign.
3. Integrated with Conga Suite
When Conga CEO, Matthew J. Schiltz, said at the launch that their customers wanted "an e-sign solution tailor-made for Salesforce and deeply integrated into the Conga Suite," he was not lying. The brand is popular and many Salesforce users rely on Contracts, Composer, and a slew of other Conga tools. Conga Sign works seamlessly with all of them.
4. Exciting Features
From draft to signing, you can track the status of any document through Conga Sign's custom Salesforce object. With some customization, you can automate the entire process and set up timed reminders and triggers.
5. Competitive Pricing and Reliable Support
Conga is one of the few organizations to provide 24×7 support and enterprises value that. Pricing is also competitive. Conga Sign costs as much as 50 percent less than some of the other enterprise e-signature solutions on AppExchange.
Fill the form on the right to subscribe to our blog and stay up-to-date on the latest in Salesforce and the technologies making the platform better. For everything else, contact us at
info@grazitti.com
Tags:
---