Developed in 2001 as an integrated .NET-based content management system, Sitecore, today has evolved into a global digital experience leader.
It is an all-in-one digital experience platform (DXP) that combines content management, marketing automation, and eCommerce to offer unparalleled customer experiences.
Owing to its flexibility, scalability, and robustness Sitecore is trusted by many big brands like Puma, L'Oréal, and Millennium Hotels and Resorts for their websites.
But that's not it.
The powerful DXP offers a suite of products and solutions to cater to different enterprises' needs and empower them with effective infrastructure and strategies.
In this blog post, we will discuss Sitecore's fab four, collectively known as Sitecore Experience Cloud that is instrumental in transforming businesses' digital experiences.
So, without further ado, let's get started.
What is Sitecore Experience Cloud?
With a powerful CMS at its core, Sitecore Experience Cloud is a perfect blend of marketing and technology that powers businesses with an end-to-end content, commerce, and personalization platform. It comprises four products that work together seamlessly to amplify your brands' marketing efforts and operational excellence.
Sitecore's Fab Four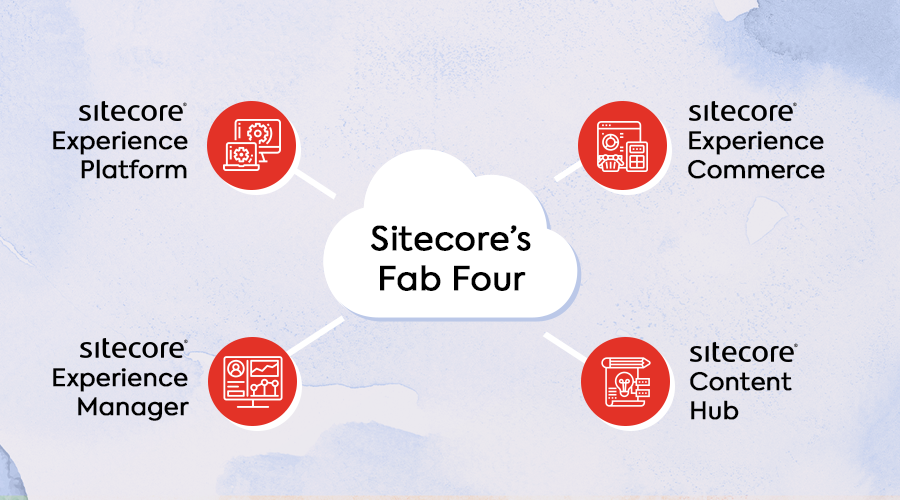 1. Sitecore Experience Platform
2. Sitecore Experience Commerce
3. Sitecore Experience Manager
4. Sitecore Content Hub
Let's discuss them in detail.
1. Sitecore Experience Platform
Sitecore Experience Platform (XP) is a marketing automation solution with many out-of-the-box functionalities and tools to nurture customers throughout their life cycles. It combines customer data, analytics, automation, and AI to deliver seamless personalized experiences to users across multiple channels.
Its features include –
Marketing Automation: Craft in-context conversations with pre-built templates and an intuitive interface to nurture customers.
Sitecore Cortex: Get actionable insights on customers' data and identify new segments and revenue opportunities using machine learning.
Sitecore AI: Analyze customer behavior to optimize and personalize customer experiences at scale.
Sitecore Experience Database: Get a comprehensive 360° view of every customer interaction across all channels to drive engagement.
Personalization: Tailor content based on explicit and implicit information to provide real-time 1:1 personalization.
2. Sitecore Experience Commerce
Sitecore Experience Commerce (XC) is a headless eCommerce platform by Sitecore that helps businesses create custom storefront experiences. It is a highly configurable platform with an API-first approach and automated scaling capabilities for designing future-proof business strategies.
Its features include –
Omnichannel Experiences: Target users with omnichannel experiences for B2B, B2C, and B2X on one platform.
Catalog & Inventory Management: Manage all your back-office tasks and sellable items, including fulfillment, inventory, and supplier orders.
Commerce Dashboard: Track your merchandising, customer and order information, and pricing and promotions in one place for better functionality.
Cloud Ready: Choose from a range of deployment options, including SaaS, PaaS, LaaS, and on-premise as per your business needs.
3. Sitecore Experience Manager
Sitecore Experience Manager (XM) is a web content management system that powers businesses with omnichannel content delivery. It facilitates multiple website management from one platform and helps scale content creation with easy-to-use tools.
Its features include –
Content Management: Create, share, and manage content across multiple sites and in multiple languages with a centralized platform.
Omnichannel Delivery: Distribute device-optimized content to create a consistent and holistic customer experience.
Experience Editing: Facilitate content editing with WYSIWYG editor and simple drag-and-drop features.
Enhanced Flexibility: Integrate multiple third-party marketing solutions to accelerate time-to-value for customers.
4. Sitecore Content Hub
Sitecore Content Hub is an integrated solution for content planning, collaboration, creation, and management. It enables businesses to view, store, categorize, and share all their content assets in one place. Additionally, it helps control the entire content lifecycle to deliver targeted content that promotes conversions.
Its features include –
Digital Asset Management: Centralize all your digital assets for better searchability, management, and usability.
Content Marketing: Streamline content workflows and optimize content distribution for various channels, audiences, and campaigns.
Marketing Resource Management: Align your marketing processes and promote collaboration between teams for effective outcomes.
Product Content Management: Take charge of your product content by integrating content and centralizing product data management.
Content Publisher: Automate marketing collateral production with multiple languages and channels variants.
Deliver Exceptional Experiences with Sitecore
The fab four of Sitecore with their individual features and functionalities equip you with the right tools for effective performance. But when combined together, the Sitecore Experience Cloud provides an edge to your business to build successful digital connections.
Leveraging content, commerce, and personalization, it allows you to win your customers at all fronts, thus, leading to higher loyalty, retention, and sales. All in all, the platform is a great option for enterprises looking to expand their business with solid marketing and future-proof technology.
Want to Learn More About Sitecore Experience Cloud? Book a Free Consultation.
Our Sitecore certified team will be happy to assist you with any of your Sitecore needs to achieve your business goals. To find out more about our services, just drop a line at
info@grazitti.com
and we'll take it from there.
What do you think?