The December 2014 release expands upon these features, including some additional upgrades to the real-time personalization platform and improvements to Marketo's workspaces. The following key features are included in the December 2014 release:
Create Facebook custom audiences from Marketo

If your Marketo admin has added Facebook via Admin > Launchpoint, then you can easily create, upgrade or alter Facebook Custom Audience by using leads from a Marketo static or smart list.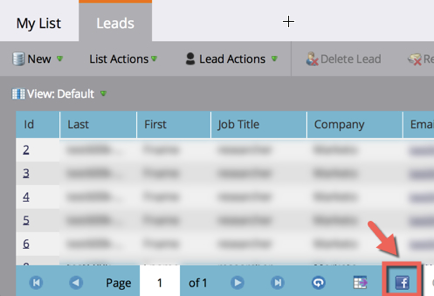 Enhanced Cloning Programs across Workspaces

Cloning a program to another workspace is no more a task. Before, cloning a program to another workspace required creating a folder, cloning your program into it and then moving the folder into the desired workspace. But now, you can do away the extra clicks and simply click clone to select the destination workspace. Although, this new feature is only available for programs at this time, but it can be extended to other marketing assets.
Do away with the Hassle of Recreating Smart Lists

Now, smart lists can be used across workspaces. The smart lists that are shared with another workspace can be referenced when building a smart list.

Trackable Links in Email Scripting

Before, tracking click-through in email scripting was not possible, but now marketers can make use of custom scripting without sacrificing on their data performance.
Enhanced Named Account List Module

Now, easily manage crucial high-yield accounts in the new Named Accounts page. A new list of named accounts can be uploaded to identify and target these organizations. The process has been automated, providing more control and flexibility to implement account based marketing plans and target key accounts across different channels.
Some Additional Enhancements
More Secure Personalization

All lead and company tokens will now be automatically encoded in HTML when inserted into email or landing pages. This feature is set to be updated by March 2015, until then, this functionality can be tested in field management.

Import Files in other languages

Alongside UTF-8 encoded files, leads and contacts can now be imported using files encoded in UTF-16, Shift-JIS, EUC-JP or EUC-CN.

Enhanced Website Tracking

Minor enhancements have been made to Munchkin Javascript to ensure it loads quickly and functions properly with other JavaScript on the page. Roll out enhancements are scheduled for mid-December and are expected to continue for the next several months.

Sliding Effect for In Zone Campaigns

A new Sliding effect for In Zone campaigns has been added to allow personalized content to slide into place upon page load.
With every new release, Marketo is upgrading its features to accommodate the growing needs of larger audience. The features from December Release are surely going to help Marketo users to scale their marketing operations. Have any questions or opinion about these features? Contact us to know more.
About GrazittiTM Marketo Services
At Grazitti InteractiveTM, our team of Marketo certified professionals can help you to maximize your Marketo investment. We also offer various other Marketo services like implementation, integration, design, development, management, reporting and support, to drive maximum revenue. Companies like

Tidemark

,

Appcelerator

,

Cloudwords

and many others have trusted us for their marketing automation needs. To know more, just drop a mail to info@grazitti.com
Image Credit: Marketo
What do you think?