Marketers! Does your HubSpot instance ever leave you with an incessant pool of questions? Are you making the most of HubSpot? Are you certain of its stability? Or did your marketing operations folks head for the hills? HubSpot is an efficient, powerful, and a best-in-the-business platform. However, a marketer's mind never stops from wondering and if you find yourself pondering over these questions, it may be time for a HubSpot Health Audit.
What is a HubSpot Health Audit?
It is a diagnostic engagement, that after plenty of implementations, covers your entire HubSpot platform, providing you with a detailed usage report and a set of absolutely specific, prioritized recommendations to optimize the results that HubSpot is capable of delivering. It's a high-level audit of your account including the assets that you'd want audited. Since a HubSpot audit is conducted as a part of a larger discovery and rebuild, it's best to get an outside perspective with cross-industry and cross-functional experience to yield the latest marketing automation best practices, a fresh set of eyes, if you will.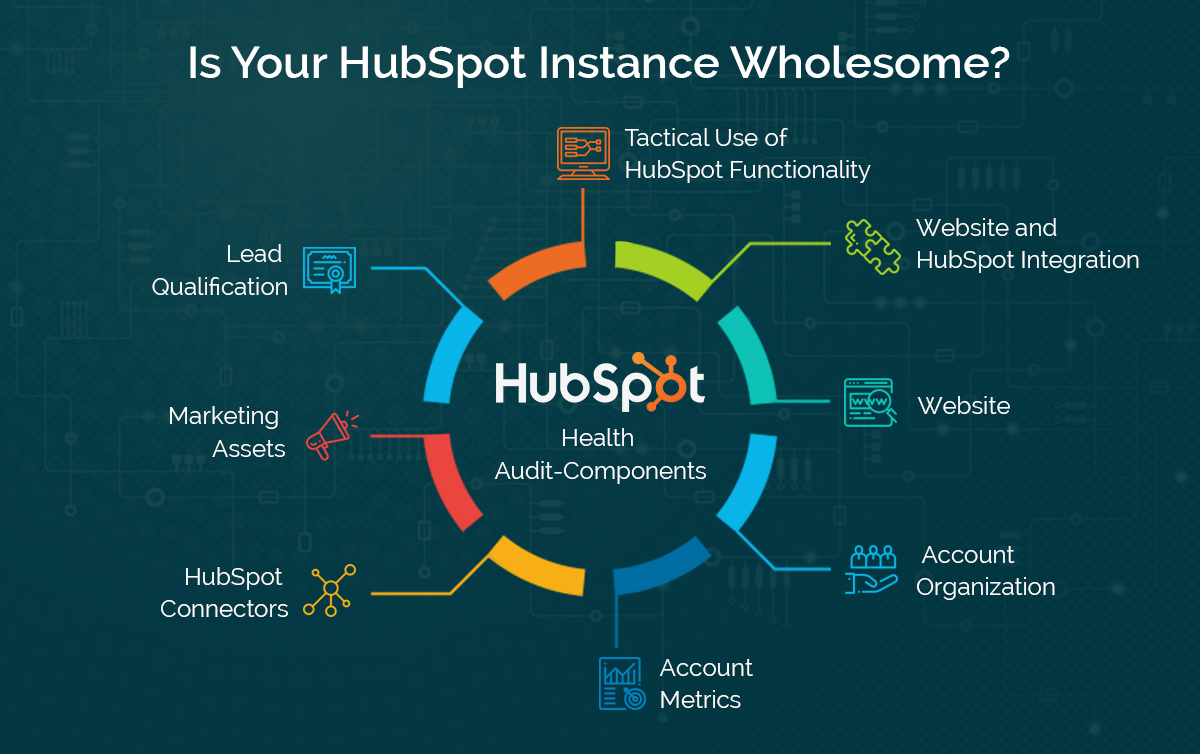 Why do you need a HubSpot Health Audit?
A HubSpot health audit gives you an overview of the observations of your HubSpot instance and a roadmap to your future growth and success. Grazitti's HubSpot audit methodology focuses on learning about the current processes of your marketing automation and CRM instances. In addition to this, you also receive a comprehensive documentation of HubSpot in its ideal versus current state. Through this deep-dive into your current HubSpot instance, you get a clear understanding of the gap areas or issues, recommendations for improvement, immediate success, and long-term wins.
What are the HubSpot Health Audit components?
1. Tactical Use of HubSpot Functionality: In this component, HubSpot's technical set-up is reviewed (Account Default Settings and Domains & URLs). This section gives you the privilege to set up your time zone in HubSpot that allows you to make several of your tools more locally targeted. It also ensures that you are GDPR compliant. The recommendations based on the observations of this section would ensure that your primary, secondary, and email sending (DKIM) domains are connected properly, which would further lead to improved email deliverability.
2. Website and HubSpot Integration: In this part of the audit, we monitor the flow of the information available on the website as a visitor, the condition of embedded links, and the various touch points. We also check if the tracking code is installed correctly so as to capture the contact activities on the website for seamless tracking.
3. Website: This component constitutes of optimization of forms, pre-fill and progressive profiling, website tracking, and the overall look and feel of the website. The recommendations based on the observations of these would increase your inbound lead collection, decrease your cost per lead (CPL), and increase your lead quality.
4. Account Organization: This component of the audit covers assets like templates, emails, pages, forms, that are created to build engagement with the audience. In this component, your content is thoroughly reviewed. You also receive reports on your top performing assets (landing pages, CTAs, etc). The value that's in it for you is effective and efficient communication of proposition to drive form conversions.
5. Account Metrics: This component of the audit would give you a clearer picture of your database at the end of which your mailable contacts would be separated from the bad data. It would help you determine which leads to nurture and which ones to discard.
6. HubSpot Connectors: Connectors allow HubSpot accounts to sync with third-party applications such as a CRM system or Google AdWords. With a connector, data can be passed back and forth between the two applications allowing you to manage many formerly disparate marketing channels from within HubSpot interface. This section of the audit is to ensure that all applications are seamlessly integrated.
7. Marketing Assets: This section of the audit covers all the workflows and campaigns. It ensures that all the rules for the different criteria that you've set for the workflows are correct and in order. This would determine which workflows need a clean-up, which ones need to be deleted, which ones need to be rectified. These could be lead source assignment or campaign status assignment. Through this audit, you'd end up with the most smoothly functioning workflows with the most active contacts that are worth nurturing.
8. Lead Qualification: Lead scoring serves as a benchmark to indicate how interested a contact is in an organization. This part of the audit would determine if the rules for positive and negative scoring have been set-up correctly in the HubSpot instance. By receiving recommendations on lead qualification, you'd end up with reduced data cost and ineffective processing time, increased efficiency of marketing efforts, reduced possible subscription costs, boosted performance, and more time for content planning and demand generation due to improved data quality.
All marketers wish for healthy HubSpot instances and we're sure that you're no different. So, don't procrastinate, identify the gaps in your current HubSpot Implementation, get recommendations to improve performance and ROI, and become a 'HubSpot Rockstar' in your organization!
Is your HubSpot instance the healthiest ever? Get a free audit worth $2000 now!
While you tackle the other high-priority items on your plate, our HubSpot wizards would be happy to help you get the healthiest instance ever. Just drop us a line at
info@grazitti.com
, and we'll take it from there!
What do you think?