In 1921, Frederick R. Barnard said – 'A picture speaks a thousand words'. Nearly 100 years later, it still holds true!
Today's world is all about data. With 37 TB of data being created EVERY second, it can be overwhelming to cope with such large amounts. Hence, folks largely prefer visuals, since extracting meaning from visuals is simpler. In fact, according to a recent survey, business intelligence with data visualization capabilities will offer an ROI of $13.01 back on every dollar spent!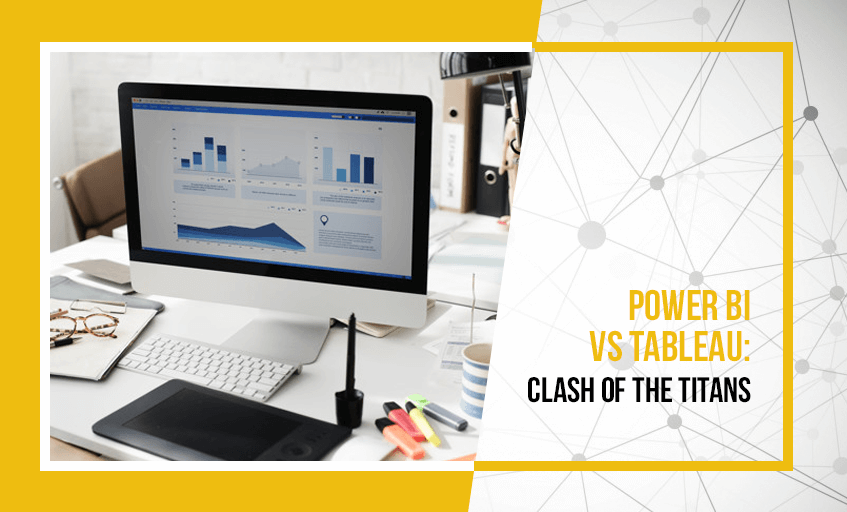 According to Stephen Few, a data visualization consultant at NASA – "Data visualization shifts the balance towards greater use of visual perception, taking advantage of our powerful eyes whenever possible".
However, with so many data visualization tools available, which one should you pick? Well, in our blog post, we compare the most popular ones—Power BI and Tableau—on several parameters to help you decide better.
Overview
Tableau – Specializing in beautiful visualizations, Tableau offers robust BI tools to improve data visualization and discovery for all types of organizations. It allows instantaneous insights with simple drag-and-drop-features, thus helping you easily analyze key data and share crucial insights. Tableau also offers the option to embed dashboards to existing business apps such as SharePoint and more.
Power BI – A cloud-based analytics and BI platform, Microsoft Power BI uses existing Microsoft systems like SQL, Azure, and Excel. It makes data sharing and evaluation easy by connecting to a lot of different data sources, and offers a full overview of the organization's most critical data. Power BI is a great choice for people who already work with MS products such as Office 365, Excel, and Azure.
Let's see how these two stack up on the basis of the following 5 parameters:
1. Visualizations
Tableau – Tableau lets you create up to 24 types of visualizations such as line chart, Gantt chart, bubble chart, scatter plot and more. Thanks to its phenomenal interface, you don't need to know any coding for developing complex and stunning visualizations. Tableau gives you live query capabilities while enabling you to ask 'what if' questions, truly upholding the company's line that says to "keep the focus on your questions".
Power BI – With real-time data access, and simple drag-and-drop features, Power BI makes uploading data a breeze. With numerous visualization types such as donut charts, combo charts, gauge charts etc, it gives you access to powerful data analytics. What's more, it even lets you use Cortana with Power BI to help you get key answers from your data, directly!
2. Data sources
Tableau – Tableau offers support for hundreds of data connectors including big data (NoSQL, Hadoop), Online Analytical Processing (OLAP), and cloud options. In addition, it gives you the ability to create or modify data links manually, based on your organization's preferences.
Power BI – Power BI is capable of connecting to your external sources such as JSON, SAP HANA, MySQL, and more! In addition, it lets you connect to Microsoft Azure databases, files, third-party databases, and online services like Salesforce and Google Analytics.
3. Integrations
Tableau -Tableau has invested in a lot of integrations and connectors. It lets you view all of your connections included with your account level, right when you log into it!
However, since Tableau's connections are more involved, you will first need to identify the data that you want to pull into the tool before making the connection.
Power BI – With API access and pre-built dashboards for speedy insights, Power BI lets you connect to popular technologies such as Google Analytics, Salesforce, email marketing platforms, and Microsoft products. It also lets you connect to services within your organization or even download files to build visuals!
4. Customer support
Tableau – Tableau offers an exhaustive knowledge base that is divided by 3 subscription categories — desktop, server, and online. You can access support resources that are tailored for your version of the software. It also has direct support available via phone, email, and by logging into the customer portal.
Power BI – Power BI offers comprehensive resources and documentation, including a community forum. While paid and free Power BI users can submit a support ticket, the former get faster support!
5. Pricing
Tableau – Tableau's recent subscription offerings tailor to user needs and are named – Creator, Explorer, and Viewer. The Creator plan includes the full functionality of Tableau and costs $70 per month, regardless of whether you want it on-premises or on cloud. The Explorer plan offers self-service analytics and costs $35 per month for on-premises and $42 for deploying on cloud.
Finally, there is Tableau Viewer that costs $12 per month for on-premise and $15 for cloud. However, the Tableau Viewer needs at least 100 viewers before you purchase this plan.
The platform has a 14-day free trial.
Power BI – Power BI offers three subscription plans – Desktop, Pro, and Premium. While Desktop is free, Pro starts at $9.99 per month and has extra features such as data governance, content packaging, and more. Pro offers a 60-day free trial.
Premium has capacity pricing, and charges per node per month. Power BI has a cost calculator for customized quotes that are based on the number of Pro, occasional, or frequent users.
Final Verdict
Tableau and Power BI have their pros and cons. Tableau enables users to integrate any amount of data points in their analysis. On the other hand Power BI, is definitely a great option for smaller companies who want a nominal business intelligence tool!
Need help with customized dashboards and real-time reports? Contact us.
At
Grazitti Interactive
, we have a team of dedicated data scientists that help businesses with interactive dashboards and reports, which in turn enables them to make more meaningful and strategic decisions. For more information about our services, shoot us an email at
info@grazitti.com.
What do you think?