After the success of past five editions, the caravan of Salesforce World Tour continues in 2019. Just like 2018, the event will kick off from Sydney. The much-anticipated event will be hosted at the International Convention Centre(ICC) Exhibition Hall, Sydney on March 6th.
As the largest cloud conference in the southern hemisphere –  Salesforce World Tour, Sydney – draws closer, the excitement among trailblazers is touching its peak. And why not! It's going to be a day full of connecting, learning, and innovation. So, this is the event, you certainly don't want to miss out.  
What's in there for you?
There are a number of offerings for you at the Salesforce World Tour 2019. Top CEOs, industry leaders, Salesforce MVPs and developers, and marketers will share knowledge, success stories, and tips about leveraging Salesforce products for better ROI.
That's not just it.
We've listed down the top five reasons why you must attend Salesforce World Tour 2019, Sydney: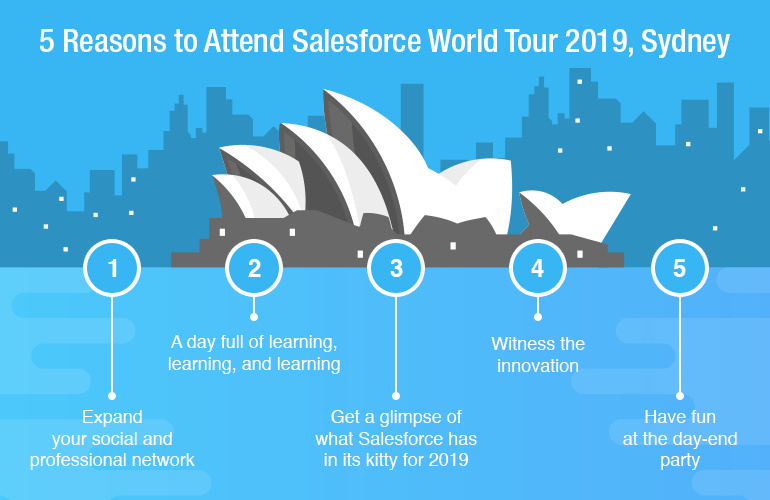 1. Expand your social and professional network
"If you are not networking, you are not working," said Dennis Waitley.
With over 10,000 people expected to turn up at the event from every continent, there are ample opportunities for you to meet and greet fellow trailblazers and expand your network.
2. A day full of learning, learning, and learning
Learning never ends and gaining experience only helps you take a leap. Salesforce World Tour Sydney is an opportunity to experience 24+ breakout sessions, an opening and a closing keynote session to help you identify success routes. All these sessions will help you develop new skills, elevate your career, and get inspired by the Trailblazers who are helping prosper their companies.
3. Get a glimpse of what Salesforce has in its kitty for 2019
Find out what is going to be Salesforce's focus in the coming months. However, it is expected that Salesforce's announcements would be around their latest innovations, including Lightning web components, Salesforce Customer 360,  Einstein Voice, etc. Get to know how these solutions will help you create a comprehensive view of your customers, leverage AI to connect with your customers and more.
4. Witness the innovation
Get hands-on with the latest product innovations that can help you create connected customer experiences. Hear how Salesforce's community of Trailblazers are disrupting industries, shaping the future and transforming the world – and how you can too.
5. Have fun at the day-end party
It's going to be a long day. However, after an exciting yet exhausting day, you can relax and have some fun time at the 'Network Party' at the end of the day.
Conclusion:
Salesforce is so substantial that there is always something new to learn. So, irrespective of if you are a basic user of a small/medium business or a CEO of a large MNC, there will be plenty of information and demonstrations at the Salesforce World Tour Sydney to help you understand the capabilities of the platform.
Be there to learn how leading companies are transforming to connect with their customers in a whole new way. Trailblazers around the world are waiting for the event with bated breath and so are we.
A team of Grazitti experts will be there at the event. You can meet our team to explore our industry-focused solutions and products which will help you accelerate your digital transformation journey. Don't miss an opportunity to learn and witness the latest technological innovations.
Although, it all begins with getting yourself registered first. Do not wait, sign up right away using the link given below:
Registration: https://www.salesforce.com/au/events/worldtour/syd19/overview/
Want to know more about our Salesforce services and products? Contact us.
At
Grazitti Interactive
, our certified Salesforce experts have provided award-winning, customized solutions for Sales Cloud, Service Cloud, Online Communities, and other Salesforce implementations and integrations. If you need any sort of assistance with the latest Salesforce enhancements or optimizing your instance, drop us a line at info@grazitti.com. 
What you think?
0 Responses

Loved it